Black Shot is a free-to-play tactical MMOFPS set in a post-apocalyptic world, which let you enjoy intense PvP battles with many different objectives and in many different areas and ages. By fighting in your team and fulfilling different tasks you will gain rewards which you can use to advance your character in level, gears, weapons and more important, access to some very important tactic skills which might save you from being downed! Join other mercenaries in brutal team combat, multiple game modes, and experience in-depth customization to create your perfect warrior.
Game Modes
– Search & Destroy: Claim victory by eliminating all your opponents! The attacking team will plant bombs to wipe out the opposing team and the latter must foil their plans to do so… even if it means sacrificing their lives!
– Search & Destroy Infinite: Have a bombalicious time with Search and Destroy Infinite (SD-I), where you can plant/defuse bombs as many times as required until time runs out. Failed to stop the explosion or got gunned down by the opposing time? Fret not, respawn again and seek your sweet revenge! Each team will have the chance to play both offense and defense sides so pump out that alert meter soldier, because the team with the most successful bomb explosion wins!
– Team Flag Match: The objective of this mode is simple – capture your opponent's flag to win. Work together with your team mates and slug it out on the battle field to snatch your opponent's flag from their base to your own. Each successful capture earns you 5 points while every successful kill earns you 1 point. The team who earns the designated number of points first or the most points before time runs out wins!
– Team Death Match: Kill or be killed in this exhilarating mode! Show no mercy as you hunt down your oppoenents and send them to the land of the dead. Want to up the difficulty a notch? Then limit the use of weapons in each round – be it melee, sniper, riifle or pistol only. Each headshot you made shall increase your HP by 25. Talk about a challenge!
– Bunker Defense: Defend your fortress against the never-ending onslaught of enemies in this Player Vs Environment (PVE) mode. Play alone or combine your effort with up to 3 other players to take down terrorists and attackers before they breach the defense!
– Unlimited Battle Arena: The objective of both teams is to kill as many members of the enemy team with no time limit. Show your enemies no mercy as you gain control for the ultimate supremcy with each kills to obtain Unique Kill perks to further aid you in the tough battle. Don't expect your enemies armed with Unique Death perks to be mercyful as they will stop at nothing to end your killing spree.
GamePlot
The old world ended at precisely 11:22pm, on the fourth of December, 2033.
In the preceding decade, advances in human cloning had led to the development of the ultimate weapon – the expendable human clone soldier.
Mass produced in cloning factories, and armed with the type of organic intelligence that robots could never match, these clones replaced traditional soldiers at the frontline. Unlike previous conflicts, wars over dwindling resources could now be waged cheaply, and without the ethical constraint of the previous wars.
Nations begun aggressively expanding their borders, seeking more resources to create an ever bigger clone army. The entire planet soon became embroiled in an unprecedented world war. Until 11:02pm, on the fourth of December, 2033.
In their final moments of desperation, besieged by millions upon millions of clone soldiers, one nuclear-armed superpower launched all of their nuclear arsenal. Before the last missile left its silo, the hair-trigger automated defense systems of every other nuclear superpower responded in kind. Millions of nuclear-tipped missiles flew past one another in mid-flight. Anti-missile defenses spewed forth, but no superpower had an adequate defense against everyone else. According to the survivors, the skies turned red as some of the missiles were intercepted…
… and at precisely 11:22pm, on the fourth of December, 2033 – the remaining missiles struck their targets.
With the mutual destruction of the old governments, the power they once held was now distributed amongst surviving military factions. Mostly made up of real human armies who had sought shelter in underground command posts, they soon aligned themselves with the major corporations that emerged from the ashes. Equipped with only old world weaponry that survived in the underground bunkers, these armies for hire would soon become embroiled in the next big battle between the corporations – the race to rebuild the human clone soldier.
BlackShot

Screenshots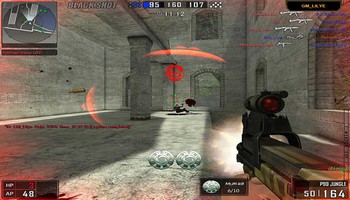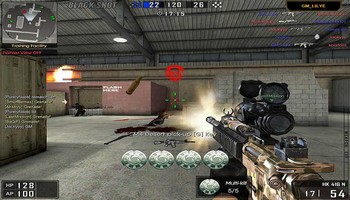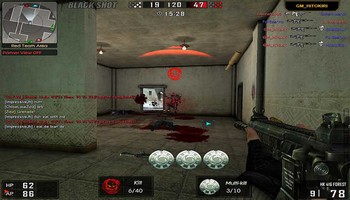 BlackShot

Videos
trailer
trailer 2
trailer 3
gameplay