Brain Storm is a massively multiplayer strategy game where knowledge is the key to victory. You are a leader in a new world where knowledge is synonymous with power. Build your city by deepening your knowledge of the subjects that interest you. Send your experts to the ends of the Earth to discover its secrets. Defend yourself with your cunning and genius and steal the knowledge that others have accumulated. Form alliances and compete against thousands of individuals to build an Oracle: the source of Absolute Power!
Game Features
– Build Your City: To evolve in the game, you need to develop your city. Any construction requires genium, a scarce resource. The buildings that you construct will open new opportunities by providing new fragments, experts, extractors and exploration vehicles. Each building can be upgraded up to four times to provide new and more efficient units. Customize your city based on your interests and your strategy. Build what you need to get the knowledge you covet!
– Explore the World: You will share the world with thousands of other players and compete for the same resources: knowledge and genium. You can accumulate genium by deploying extractors to the veins that you discover. Warning: not all veins are created equal and the wealthiest are coveted! Deploy your experts to analyze the discovered fragments allowing you to acquire their knowledge. You will also use exploration vehicles, of increasing efficiency, to discover new veins to exploit and and new knowledge to collect. Be advised, these resources exist in limited quantity in the world. Strategy and speed will allow you to capture as much as possible before it's all gone!
– Accumulate Fragments: The more you know, the more powerful you are. Fragments and knowledge will provide you with energy to fuel your exploration missions and attacks. Accumulate enough fragments to develop knowledge units, the rare and precious resource used to create your powerful oracle.
– Master Knowledge: Knowledge discoveries are only the beginning! You must master them to reveal their true potential! Prepare yourself; the Geniapedia is there for you to consult. You will have to overcome many cognitive challenges in your quest for excellence. Earn successes and quickly master your fragments to reap the rewards. Then use the accumulated knowledge to form an impenetrable shield and counter your adversaries!
–Compete with Your Peers: Knowledge fragments are a rare resource coveted by all. Plan powerful attacks to connect with your adversary's accumulated knowledge and then parcel it off! These treasures will be well-guarded by your opponent's most difficult mastered notions. A more powerful attack will allow you extra time to penetrate your adversary's defensive shield, yielding a more attractive reward…
– Develop Alliances: The construction of an oracle is an objective far too ambitious for a single person. Before you can begin, you will have to unite with other leaders to form an alliance of up to ten members. Study the rankings to find interesting recruits. Look for those who can support your strengths and address your weaknesses. Discuss with your partners, exchange strategies and knowledge.
– Build the Oracle: An oracle is the source of absolute power; this is your ultimate goal. To build an oracle, you will have to accumulate as many fragments as possible and assemble them into knowledge units. The more knowledge you connect to your oracle, the more powerful it will become. Connect them all to activate and multiply its power, but be careful because other alliances are already in the race and will try to sabotage you. Defend yourself, protect your hard-won knowledge, slow down your opponents and build the most powerful oracle to win!
Game Plot
Humanity has become fascinated by the discovery of a rare and promising ore: genium, an alternative to fossil fuels. To deliver its full potential, this mineral must be fed by cognitive energy, your knowledge. This resource, capable of generating almost infinite energy, is a source of greed and conflict. Be the first, among thousands, to use your knowledge to increase the power of your city. Extract as much genium as you can and develop a strategy to extend your conquests.
In this race against time, you must create alliances, train experts and develop your strategy so you can be the first to build the oracle; proof of your cognitive supremacy.
The most powerful oracle, powered by the knowledge acquired by you and your alliance, will allow you to rule the world.
Be careful, there are many in this quest for knowledge. Prepare to defend what's yours and attack your enemies to steal their fragments; the ones that you're missing. Brain Storm, a massively multiplayer online strategy game, offers you the world through a fabulous quest. The future of culture and human knowledge depends on you and your allies.
Brain Storm

Screenshots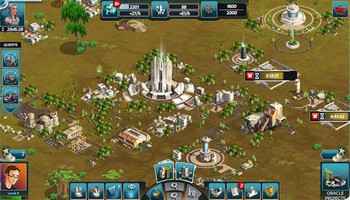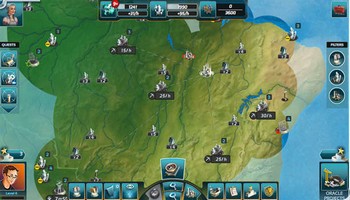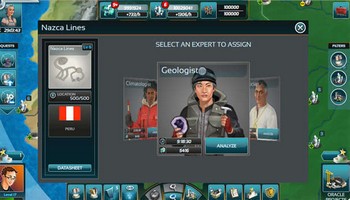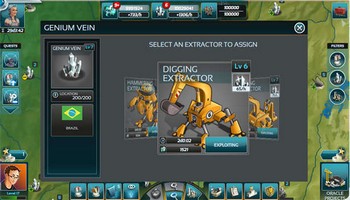 Brain Storm

Videos