Dark Eclipse is a free-to-play virtual reality online battle strategy game MOBA(RTS), the first-ever VR MOBA released for PlayStation®VR. In Dark Eclipse, you control three characters, called Leaders, each with unique abilities. You can grab and move the Leaders directly without the boundary of a 2D screen. The goal is to destroy the enemy base while defending your own. To make this possible, collect resources to build towers as these will protect you and give you vision. No need for a mini-map as by just looking around, you can see the whole battlefield. You can feel the game with haptic feedback on your fingers, and listen to enemy movement with 3D audio. Both the DUALSHOCK®4 and the PlayStation Move controllers can be used and you may use choose to play using both hands, or just one hand.
Game Features
Leaders: Among the three Leaders you control, there is one human character (called the Hero) and two strange-looking Leaders (called the Dominators). Every Leader has an active skill you can use, and a passive skill that is automatically engaged. By defeating enemy Leaders or neutral monsters, your Leaders get experience to level up.
Soldiers: The soldiers travel with the Leader. The energy source, called quark, comes from the towers. With quarks, you can strengthen the soldiers, and get up to three soldiers per Leader.
Map and Battlefield: Every battlefield has symbols of the world Oldus. Not only does the battlefield look great, but it contributes to a balanced game. With a different field, you need a different strategy: hiding in bushes, going through the hidden route, or attacking the enemy base directly. It's your choice.
Character Counter Picking: The players take turns to pick the Leaders. Some Leaders work better in certain battlefields. There can only be one unique character on the battlefield, so picking your favorite Leaders or counter picking against your opponent will change how you play. The fight begins when you start picking.
Towers: When a Leader is near you and your tower, your tower will attack any incoming enemies. The towers provide you vision and provide quarks for the soldiers. Each tower has special ability called the Tower Tech, with which you can befriend natural monsters, revive a fallen Leader, etc.
Dark Eclipse

Screenshots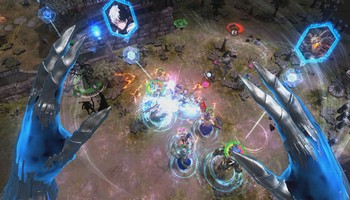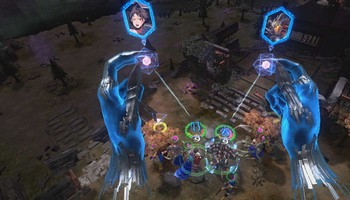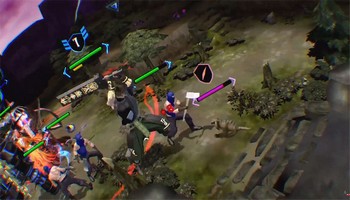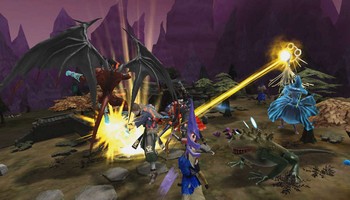 Dark Eclipse

Videos