Dragonica is a Free to Play MMORPG created in a cute manga anime style allowing you to experience a fantasy world filled with dangerous creatures, epic battles, unique characters and everlasting adventure. You and your friends will explore far away exotic lands on the most incredible adventures imaginable! Dragonica's 3D manga-style world and action rich arcade-style are guaranteed to make this a unique gaming experience. Enjoy hundreds of quests and colourful skills while hunting monsters in dark dungeons and battling against other players in the PvP and Emporia arenas. Adorable pets, an open market function as well as couple- and friendship systems are just some of the other features Dragonica has to offer.
Game Plot
A thousand years ago the evil dragon Elga rose to power. He was obsessed with the throne and used the five elements of the human world to bring an everlasting darkness to the land. Many people followed Elga out of fear, and it looked like he was going to win until the five heroes arrived. They captured him with the help of the good dragon Dekard and peace was restored. But now the darkness is spreading once more… Journey through the continents of "Elyades" and "Melanathos" filled with an array of fierce creatures under the control of the dark witch "Paris". It is your mission to restore peace to the land of Dragotaka. Journey along with your friends at your side and you will discover dark and dangerous dungeons many of which will test the skill of anybody that dares enter.
Game Features
– Classes: Choose the Magician, the Cleric, a mighty Shaman, a tricky Amazonian and fight your way up to PVP level.
– Customization: Customise your character with a vast range of clothes, hairstyles and fashion accessories and become the most unique player in the land.
– Couples and Marriage: You can become a couple with another player and should you wish, get married in the beautiful wedding hall. Couples receive a special buff.
– My Home: Rent your own personal apartment and decorate it with items of your choosing, there are many different furnishings to choose from, including seasonal items!
– Pets: There are two different types of pets available. Regular Pets are loyal companions and will follow you into any battle; they can provide you with stat boosts not to mention the fact that they are all seriously cute. Secondly there are the deadlier Riding and Battle Pets.
– Dungeons: The Dragonica Dungeon system is a unique experience that gradually increases in difficulty as you progress, whether you decide to play by yourself or in a party together with up to three of your online friends you are sure to enjoy the story based adventures of the multiple boss characters.
– Production system: Learn many different professions from three different core disciplines, gathering, processing, and manufactue. There are four main professions which span the three disciplines each complimenting each other. They are Logging, Mining, Herbalism and Fishing.
– Battle in Epic PvP Combat: The three PvP modes in Dragonica. Practice mode allows you to test your strategy without any risk of affecting your ranking, Ranking mode requires you to be prepared for anything your opponent might throw at you, your wins/losses will be counted. Battlesquare puts many players up against each other in a capture the flag style combat. Emporia Wars gives guilds the chance to battle each other for control of the Emporium, areas exclusive to a particular guild that can be built up using guild EXP for various benefits.
Dragonica

Screenshots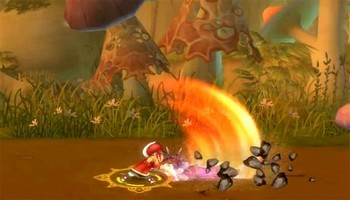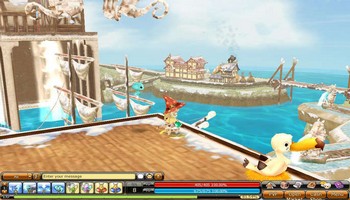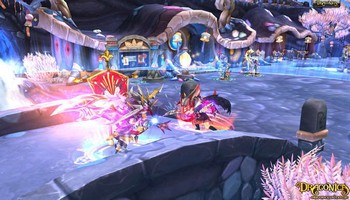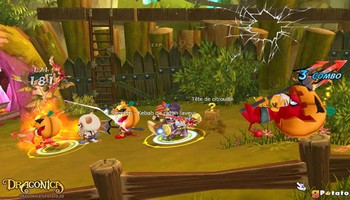 Dragonica

Videos
trailer
trailer 2
trailer 3
gameplay
gameplay 2