Dynasty Warriors Online is an massively-multiplayer online game belonging to Tecmo Koei's Dynasty Warriors video game series, as well as the larger Romance of the Three Kingdoms meta series, which is based on the Great Classical Novel of the same name. Dynasty Warriors Online allows players to create their own character and choose a weapon from existing playable characters. Once a character is created, the player enters the world of Dynasty Warriors, defeating opposing armies for experience points. Players can also see other players that they can battle. It also poses the introduction of free roam, of which a player can move around their factions city talking to various non-player characters.
GamePlay
The gameplay of Dynasty Warriors Online is similar to its console counterparts. It composes of two main parts, campaign battles and melee battles. Campaign battles occurs weekly, where the 3 Kingdoms (Wu, Wei, and Shu) and other possible factions (Such as Dong Zhuo or Yuan Shao) fight for cities and territory. If there's no campaign scheduled, then a large 24 player Showdown battle will be held. The goal of the game is to complete the objective specified for the type of battle. In melee, there are five modes:
– Capture: Capture all the enemy bases, or all the bases on the battlefield
– Defeat: Defeat the certain number of troops in the time limit
– Confront: Defeat 10 enemy players
– Search: Bring 10 pieces of treasure back to one of your bases or supply base.
– Destroy: Reduce the enemies force through various means.
Game Plot
Nearly two decades have passed since the collapse of the Han Dynasty and the death of the usurper Dong Zhuo. War has engulfed all of China, and the fallen empire has splintered into competing regions in the possession of rival warlords and generals, each vying for territorial control.
Among these figures is Cao Cao, a military genius and leader of the Wei armies, who has assumed effective rule over all of northern China. He travels south, across the Yangtze, to continue his campaign to reunify the country under his command.
Standing in his path, however, are Liu Bei of the Shu, and Sun Quan of the Wu, who forge an alliance to turn back the Wei at the Battle of Chi Bi. Their partnership is short-lived, however, as the two soon turn against each other for possession of Jing province.
The war of the Three Kingdoms has reached a stalemate. Each general has tasked their couriers to travel the land, seeking promising young recruits to join the cause. Do you have what it takes to rise to the challenge and turn the tide of battle?
Dynasty Warriors Online

Screenshots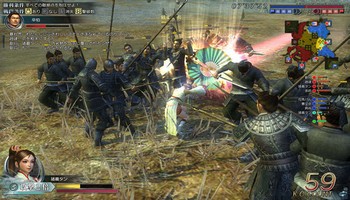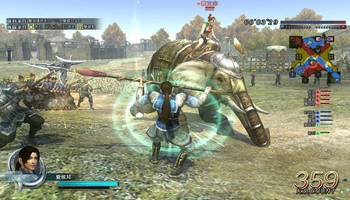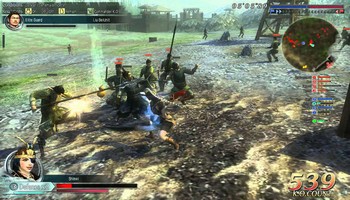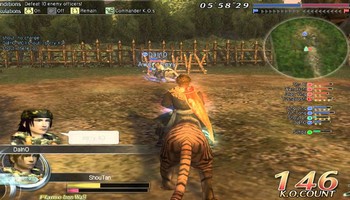 Dynasty Warriors Online

Videos