Gods War Online is a 3D MMORPG is set in Ancient Greece with a Greek mythology theme. GodsWar Online was released in May 2009. There are a total of 4 different classes which include: Warrior, Champion, Mage, and Priest. Players can choose their starting city which will either be Ancient Sparta or Ancient Athens. The city chosen will decide where the player starts off in the game. Each city has quests which can be used to obtain experience, talent points, equipment and/or silver. Besides the normal monsters there are a number of bosses in GodsWar Online and are much more difficult to defeat than normal monsters.
Gameplay
Talent Points: Each character are built with unique talent point allocation stats, as it makes them different from each other. Talent points are used to make a character stronger by putting it on their talent skill tree, and it can also be used in their zodiac system which can either increase the damage of a character's skill or improve their defenses on a specific skill they chose.
Talent points can be obtained by either completing quests or killing monsters. There are also several Godswar events where a player can gain more talent points such as Sicily, Spartan spy invasion and Quizzes.
Quests: Godswar Online features a quest system, allowing players to complete quests, which will grant the experience, talent points, silver and items.
Upgrades/Forging: Equipment attributes can be upgraded by using gems, crystals and some silver. Gems and crystals can be obtained through quests, monsters drops or bought from the Mall/B-gold shop. Forging is not always successful and the success rate decreases with higher quality/grade forging. There are currently four gems available in the game, they are: Ruby; Sapphire; Emerald; Amethyst. Each gem and crystals have three levels apart from the amethyst of which until level 4 can be found/bought. Higher gem levels give higher success rate for forging, although it is not significant.
Upgrade materials are lost when failing an attempt. Each gem has different upgrade properties and
Pet System: GodsWar Online features a pet feature. Pets are able to learn up to six skills, enhancing the player's statistics.
Certain attributes have to be met in order to learn any skill (e.g.: Pet's luck of at least 10 to learn the Ice skill), but not all skills can be learnt as some unique skills can only be learned by specific pets. Higher rank is required to achieve a higher level of the skill. Each skill has three or more levels.
Pet's attributes can be increased by clicking on the 'upgrade' button when the required experience has been reached and this will allow the pet to level up. However, the pet's rank cannot be increased by levelling up. At this stage no other way has been discovered to increase rank apart from signing contract with the pet. It has been suggested that the Nature of the pet also affect the rank, with the Godly nature having the highest rank.
Mounts System: In late 2009, the developers of GodsWar Online introduced the Mounts System. This system allowed players increased movement speed, and giving players over level 40 the opportunity to obtain a quest that gives them their own mount.
When players have talked to the right NPC, they get a spell book which allows them to learn the Summon Mount ability. This quest is the prerequisite quest for obtaining a mount. Unlike other RPGs, players cannot attack while on mounts and so must de-mount and re-mount before and after battles.
GodsWar Online

Screenshots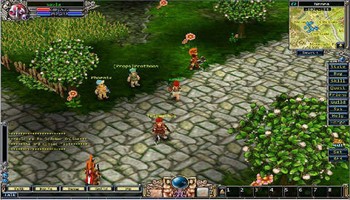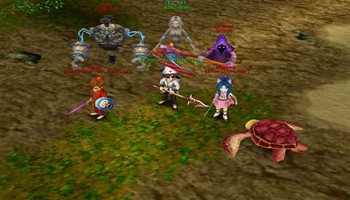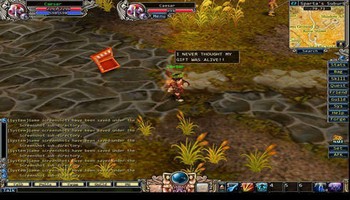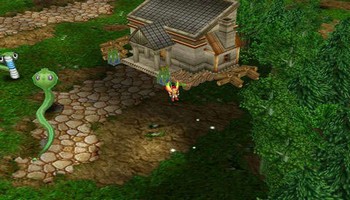 GodsWar Online

Videos