Grand Fantasia is a long-standing Free to Download and Free to Play Online 3D anime themed MMORPG where players go on journeys with their Sprite companion battling the forces of darkness. Set in an expansive and carefully crafted fantasy world, Grand Fantasia offers players a variety of innovative and engaging features, including: character and sprite customization, a branching class system, sprite crafting, an incredible menagerie of mounts, player-versus-player (PvP) combat, team-based battlefields, challenging dungeons, epic region and world bosses, a player statue feature, in-game bulletin boards, auction houses, a player romance system, robust guild management and communication tools, and a host of quests (solo, party, and guild) that will entertain gamers of all play styles.
When you enter the world of Grand Fantasia, you begin your journey as a Novice on Siwa Island. This is where you begin your training as a Sprite Messenger! While this small island paradise is perfect place to learn the basics, eventually you will move on to greater things and advanced classes.
Game Features
Explore the Magical World of Saphael
Level up your character as you progress through the various quests in each region. Gather some friends and attempt to conquer some of the challenging instanced dungeons.
Branching Class Trees
Begin your adventure as a Novice and quickly gain the option of branching into one of the four adventuring classes. Select specialization classes at level 5, 15, 30, and 65 to ultimately choose from a total of 8 character classes. Further customization is available through the Alternate Advancement System!
Customizable Sprite Companion
Create your very own sprite to travel with you. This companion can harvest raw materials for you and even craft weapons and armor!
Player Mounts
Famous heroes don't walk; they ride in style. Choose from numerous mounts, each with unique requirements so characters of all types can get their own sweet rides.
Auction House
Located in all of the major cities, Auction Houses serve as central hubs for selling items. Sellers post items for sale, and don't have to be tied down while doing so. Buyers have a central place to look and don't need to scour player merchant stalls.
Exciting PvP Combat
Participate in one-on-one duels or test your might in the 15 vs. 15 Battlefield.
Guild System
Manage your guild with customizable ranks, special quests, and even guild skills as your group of allies grows in size and prestige.
Grand Fantasia

Screenshots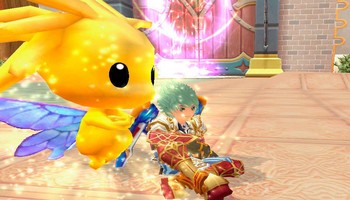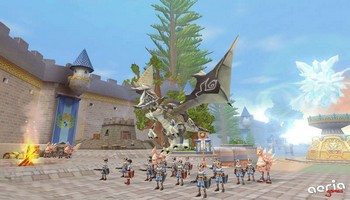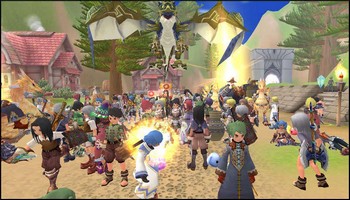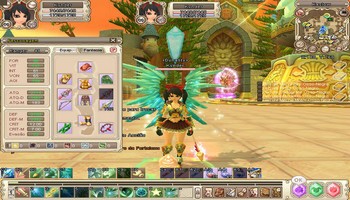 Grand Fantasia

Videos