RiotZone was a free to play militaristic browser-based strategy game based on modern conflicts! The game deals with the fight to liberate Merania – a small state in Latin America that is suffering under the yoke of military rule. The powerful Dictator that has subjugated this country does not yet suspect that a new player has entered the game – you. The game featured a variety of upgradable weapons, armour and consumables, and lots of PvP modes: capturing resources, team fights (1 on 1, 2 on 2, 3 on 3), raids on enemy territory, massive clashes for control of the game zone.
Game Features
– Simple and addictive gameplay.
– Short game sessions that do not require a lot of time.
– A unique system of missions: you can choose at any given time between several assignments or PvP encounters.
– A variety of weapons, armour and consumables, which can be upgraded.
– Lots of exciting PvP modes: capturing resources, team fights (1 on 1, 2 on 2, 3 on 3), raids on enemy territory, massive clashes for control of the game zone.
– Recruitment and training of your own squad of mercenaries .
– Strategic elements: developing your own mercenary base, obtaining resources, capturing enemy bases and defending your own.
– Half-automatic fight modus with indirect controlling, where you can give your mercenaries special commands.
– Individual upgrading of character skills.
– 2 opposing factions.
Game Plot
As a mercenary commander you can join the ranks of one of two organizations that are challenging the Dictator. Do you share the fanaticism of the Scarlet Alliance, who want to hand power in Merania over to the people? Or have you more in common with the Crown Coalition, who are known for their calculating, businesslike approach?
The war against the Dictator will break out all across Merania. You will have to make daring forays, organize ambushes, intercept convoys and storm military bases. Fights take place in semi-automatic mode with indirect controls the fighters act independently, but you should regularly intervene to ensure your men use all their special skills.
Commanding a squad of mercenaries is not for the faint-hearted. You will not have any chance to rest in the lulls between fighting – the leader bears the burden of setting up camp, training soldiers, controlling the finances and buying supplies.
Of course, it is not possible to challenge the Dictator alone. Loyal comrades-in-arms can join you at any moment. But friendship and mutual assistance are by no means the only codes by which mercenaries live. More often than not they are guided by the principle: "Victory at any price!".
Fighters from the opposing faction are always looking for an opportunity to put a spoke in the wheels of your team. The only way to prevent enemy aggression is to strike first! To allow you to do this, in addition to set missions, the game has a raiding mechanism: you can carry out attacks on the camps of opposing players.
RiotZone

Screenshots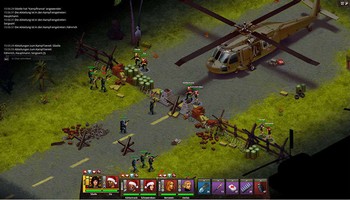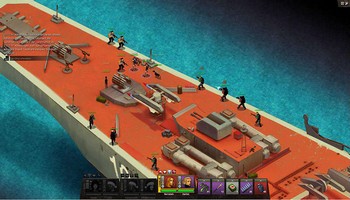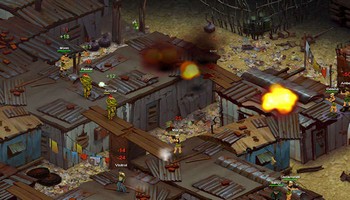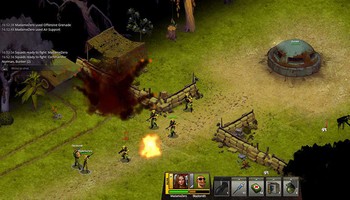 RiotZone

Videos