Terra Militaris is a browser based historical real-time strategy MMO game. As a leader of a great ancient civilization you can compete against or co-operate with thousands of players. Build up your own cities, develop your civilization through multiple eras and expand your realm. Conquer new territories, rule the trading routes, increase your influence, forge alliances, join guilds and participate in epic battles! Warfare, economics and diplomacy are your strategic tools in this free online game, helping you to achieve your ultimate goal, domination over all the other civilizations.
GamePlay
Players are first asked to choose one of four ancient civilizations to play as. Tasks are appointed to players throughout the game to guide them in learning the game's mechanics and complexities. Players start the game with a tiny settlement in the style of their chosen civilization from the character creation process, but will be able to expand their territory, develop their city and build new settlements as the game progresses. Initially, within the starting city, there is only a Town Hall, a Barracks and a Civilian House. Through tutorial quests, players will learn how to construct additional buildings, upgrade them, train units for their armies and research skills that will improve various aspects of their empire. There are five resources in Terra Militaris from which construction flows: Food, Lumber, Stone, Metal, and Gold.
Heroes are the second main element of the game next to building and upgrading one's civilization. Heroes act as the leaders of your empire's armies and are a very powerful unit in their own right. They are used to traverse the world map and can be used to plunder, tax and scout other cities. Furthermore, they are used in ranked arena battles and to conquer neutral territories. These heroes, in classic RPG style, can be levelled up through gaining experience points from battle and have an inventory full of slots in which to equip armour, weapons and accessories.
Terra Militaris

Screenshots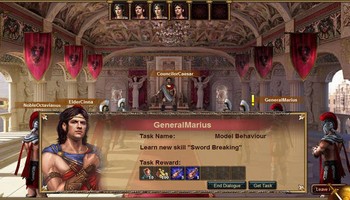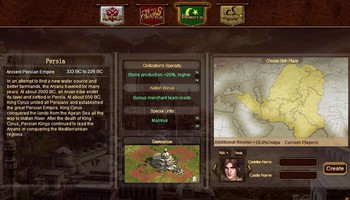 Terra Militaris

Videos