The Elder Scrolls: Legends is a competitive strategy card game set in the Elder Scrolls universe. From building your deck to taking on foes in one of the game's three exciting modes, every decision you make will require strategy and careful planning. Will you overpower your opponent with brute force? Or will you defeat your foes with speed and cunning? Each deck in The Elder Scrolls: Legends can be crafted using two of the five attributes in the game: Strength, Agility, Intelligence, Endurance and Willpower.
Game Features
Completed decks take on their own "class" based on the attributes you chose. Combining Agility and Strength will give you an Archer deck – a powerful blend of lethal creatures, plus a myriad of items, weapons and support cards to help you conquer your enemies. Building a Mage deck will grant you the discipline of the Willpower cards with the spellcasting of the Intelligence cards. (For more information on classes, get the full rundown here.) Pick the best deck to tackle different situations, and become a true legend on the battlefield.
PLAY ON YOUR OWN
Story mode provides hours of solo gameplay in which you'll earn new Legends cards, decks, and packs. Or draft a deck from scratch and battle a series of computer opponents.
PLAY AGAINST OTHERS
Test your decks against friends, challenge online opponents in ranked play, or draft a deck from scratch and battle other players who have done the same.
PICK YOUR BATTLES
Legends gameplay features a divided battlefield with "lanes" that deepen your strategy options.
LEVEL UP!
You can upgrade certain cards in Legends by winning games with decks that contain them. Level up your cards to improve your decks, give you more flexibility, and tailor them to your play style.
The Elder Scrolls: Legends

Screenshots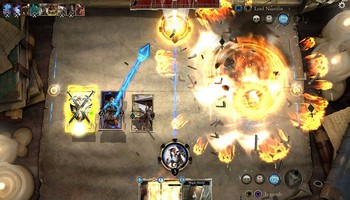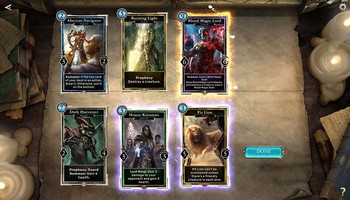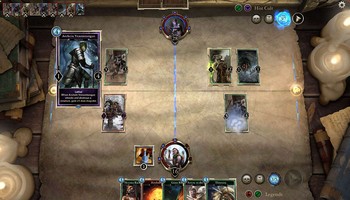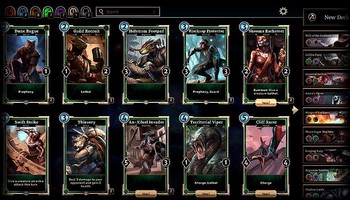 The Elder Scrolls: Legends

Videos