Animation Throwdow is a free-to-play collectable card game for PC and Mobile by Kongregate featuring five extremely popular animated shows, namely Family Guy, Bob's Burgers, Futurama, American Dad and King of the Hill, with hundreds of your favorite characters and moments from your favorite episodes from all the seasons. Collect character cards, optimize your deck, and create new combos as you fight in an epic card battle bacchanal taking place across single and multiplayer modes.
Game Features
30 Chapters of Adventuring: featuring moments and locations from your favorite episodes. Hilarious bosses, big rewards, and lots of challenge. What does Futurama's Space Bee say when you play a strong card? How does American Dad's 70s Hot Tub react to winning a battle?
Cards mania: Hundreds of cards to collect and combine featuring characters from each show. What happens when you combine Fry and Money? How about making a Beefsquatch, a $300 Knife, or Pro Bass Hank?
Multiplayer: Challenge other players from all over the globe in the multiplayer Arena. Earn Hero tokens to level up your favorite characters: from Bender to Consuela, from Bobby to Zapp Brannigan.
Events: Partake in limited time events with awesome rewards. Battle against other players, unique bosses, and other crazy combinations of events to earn exclusive rewards,
new cards, and lots of loot!
Social: Join a guild, make some friends, and get ready to Rumble! Chat with your friends, discuss strategy, battle each other for bragging rights, and gain great bonuses from joining a Guild and playing the game. When Guild events are live, play together to prove you're literally the best in the world.
Animation Throwdow

Screenshots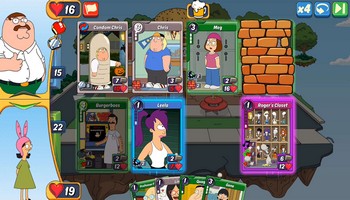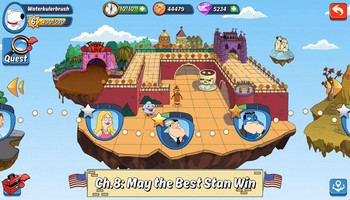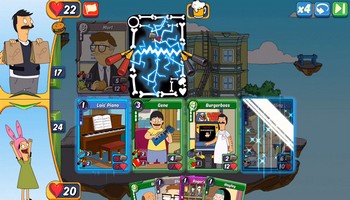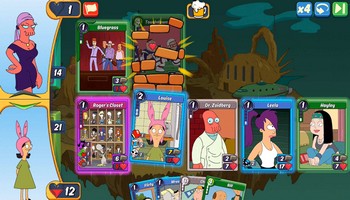 Animation Throwdow

Videos