Brawlhalla is a free-to-play 2D platform fighting game for PC (Windows and Mac) and consoles (Switch, PS4, Xbox One, Xbox X/S) featuring both online and local single player/co-op and ranked PVP modes. "An eternal battle arena where the greatest warriors in history brawl to prove who's the best that ever was, is, or will be". Competitors from all eras slug it out in devious and challenging arenas. Every match is an epic test of skill, speed, and strength, and every victory brings additional glory and bragging rights to the winners.
Clockwork VALKRIs salt these slugfests with powerful weapons and gadgets. Fighters scramble to grab swords, axes, hammers, blasters, rocket lances and more! Every weapon changes your play style and your options. Gadgets like mines, bombs, and spiked spheres add even more danger into the mix, letting fighters change the course of battle with a well timed-throw or carefully laid trap.
Game features
Online Team Brawl: The most popular format, two teams of up to four warriors face off in a frenetic, no holds barred brawl.
Online Ranked 1v1: A personal test of skill where you match up against a single opponent to claim untold levels of personal glory in Brawlhalla.
Online Ranked 2v2: Bolster your ranks with a friend to prove your mettle, wit and teamwork in frenetic 2v2 battles.
4 Player Online Free for All: Ranked or casual matches where four fighters enter, but only one can win.
8 Player 4v4 & FFA: Because the only thing better than four legends vying for bragging rights is eight legends battling for bragging rights.
Official Crew Battle Support: Teams, clans, crews, guilds and bands of Brawlhallans can challenge one another in crew battles to claim which crew has the most powerful contenders.
Local Free for All: Up to 4 players can play in free for all mode on one computer – perfect for friendly face-offs.
Local Custom Teams: Team-up on your local machine, by adding up to 4 bots into the mix for living-room level mayhem.
Alternate Game Modes: Brawlball, Bombsketball and more provide 'casual' 'party game' 'just for fun' alternate game modes with completely different objectives and just as much competition.
Free-to-play Model
Brawlhalla, like many arena fighting or MOBA games, has a free-to-play model that is unobtrusive, in that it does not require spending to enjoy all of the game or to compete equally with those who spend most. Micro-transactions are set for skins that are only used for changing a hero's appearance.
Brawlhalla

Screenshots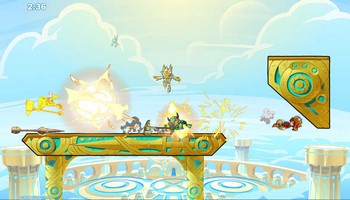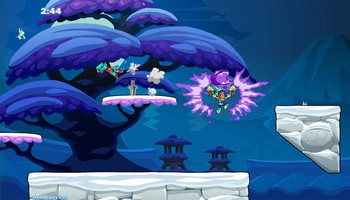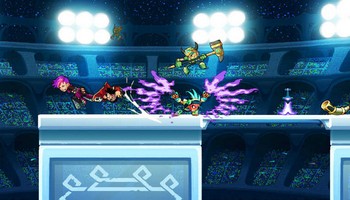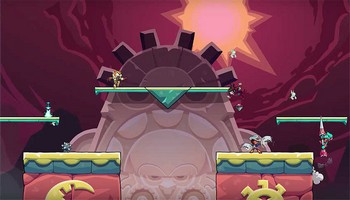 Brawlhalla

Videos
trailer
gameplay
gameplay 2