Brick-Force was a free-to-play sandbox MMOFPS shooter, similar to Blockade 3D and Blockpost, where you could build the worlds and maps you've always dreamed of, brick by brick. You could even place key interactive elements such as turrets, launch pads or bomb sites, share your virtual playgrounds with the community and use them as the backdrop for fast-paced shooting matches, discover thousands of maps created by the community and battle through rich and detailed ever-changing environments. It was apparently unlike any other MMO shooter, focusing on cartoon-like graphics and fun, and it was free to play. But it failed.
Brick-Force was shut down on October 1st, 2018.
Game Features
Build: the maps you've always wanted to, limited only by your imagination.
Play: in multiplayer battles against other players or computer AI opponents, on your computer, and on various mobile devices.
Share: the maps you create with other Brick-Force players through social networks.
Gameplay
Discover thousands of maps created by the community in Play mode. Blast through classic and new shooter match types such as Capture the Flag, Team or Solo Deathmatch, Defusion and Build & Destroy.
Use teamwork, skill and quick reactions to overcome challenges deployed by map creators and defeat the opposing team. Now's your chance to get creative! In Build mode, you can use simple building blocks to construct detailed environments. There's a whole range of different brick styles to choose from, and you can even place key interactive elements such as turrets, launch pads or bomb sites.
Free-to-play Model
Brick Force's free-to-play model has drawn animosity from free players. The game does offer the possibility of unlocking weapons by winning matches, albeit rather slowly, but the "super weapons" are only available for cash. More importantly, what has let many players down is the time-limited availability of weapons you buy using your in-game points.
Additionally, premium accounts can bring some advantages to those purchasing them as it contains The Heavy Brick-Gun as well as an item which significantly shortens your respawn time, an item which heals you automatically, if needed, once per spawn, 2 additional map slots
A 10% Force Point Bonus, A 10% XP Bonus and All Brickstar bricks. Subscriptions run for as little a 1 month to 12 with prices ranging from 4 to 35 dollars.
Brick-Force

Screenshots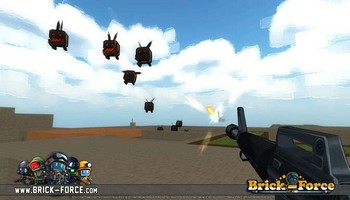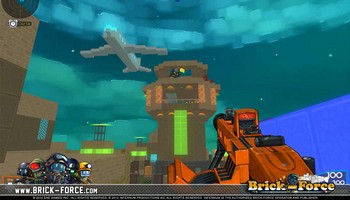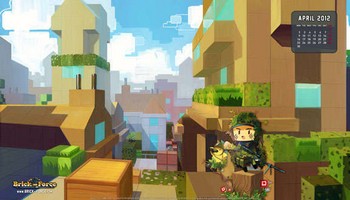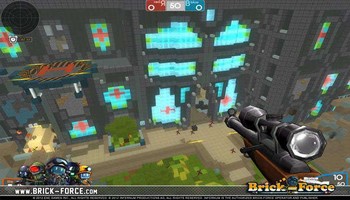 Brick-Force

Videos