Call of Duty: Warzone 2 is a free-to-play* MMO FPS (first-person shooter) developed by Infinity Ward and published by Activision for PC (Windows) on Battle.net and Steam, and Console (PS4, PS5, Xbox One & X/S). Warzone 2 is Activision's take on the F2P Battle Royale genre, and a renewed edition of Warzone made using the Call of Duty: Modern Warfare 2 game engine. This edition adds a new big map (the city of Al Mazrah), a new mode (DMZ), a new Backpack system, a 2v2 Gulag redeployment system and PVE gameplay, among other changes. At launch, the game features two game modes (Battle Royale + DMZ) and a wide variety of ground, sea and air vehicles (e.g. ATVs, Rovers, SUVs, Cargo Trucks and Helicopters) and some unique features.
Game Features
▶ Turn the Heat Up: Join forces with your friends and jump into a sprawling battleground in the metropolitan area and rural outskirts within the Republic of Adal.
▶ Loot For Rewards: Discover supply boxes and complete contracts to build your arsenal and gain a tactical advantage.
▶ Battle Across Epic Modes: With a new game mode, Call of Duty®: Warzone™ 2.0 offers even more thrilling experiences free for all players.
▶ Battle Royale: An epic fight for all-out survival. Join the ranks and battle through the massive firefight to be the last squad standing.
▶ RICOCHET Anti-Cheat™: RICOCHET Anti-Cheat™ is a multi-faceted approach to combat cheating. With RICOCHET Anti-Cheat™, both Call of Duty®: Modern Warfare® II and Call of Duty®: Warzone™ 2.0 will benefit from server enhancements to security
Game Modes
▶ Battle Royale: Fight for survival in Solos, Duos, Trios, or Quads in a massive arena of up to 150 players. Loot up and defeat opponents to get cash for equipment, field upgrades, and more. Fulfill contracts spread throughout the map to gain an advantage over your enemies.
▶ DMZ: open-world, narrative-focused extraction mode where Operators have free rein to complete faction-based missions, take on additional side objectives, engage with enemy Operators or AI combatants, and search for valuable items, all while fighting to survive toward exfiltration.
Game Vehicles
ATV: Nimble three-seater with little protection
UTV: All-terrain lightweight four-seater.
Hatchback: Four-door civilian vehicle without any significant protection.
SUV (Standard): All-terrain civilian 4×4 with a boxy frame.
GMC Hummer EV: All-electric supertruck engineered for off-road.
Cargo Truck: Large industrial vehicle with a flatbed.
Light Helo: Twin-engine light helicopter for rapid traversal and combat support.
Heavy Chopper: Heavily armored search-and-rescue helicopter.
RHIB: Maneuverable tactical boat designed for Special Forces.
Armored Patrol Boat: Reinforced aquatic vehicle with mounted .50 Cal machine guns.
Free-to-Play Model
*All Warzone 2 game modes are available for free. Warzone 2 has microtransactions for cosmetics and weapons including through a battle pass, the free version of which includes 20 free items to unlock (including weapons), out of 100+ items in the paid version. The game is not regarded as P2W (pay to win) as microtransactions are limited to cosmetics and weapons that don't provide more power to their owners.
Call of Duty: Warzone 2

Screenshots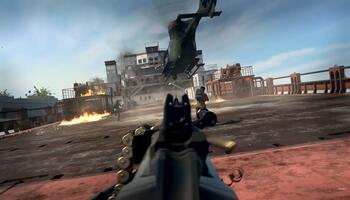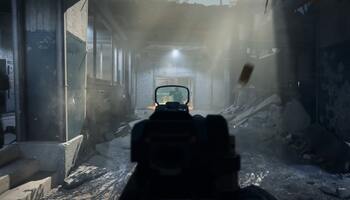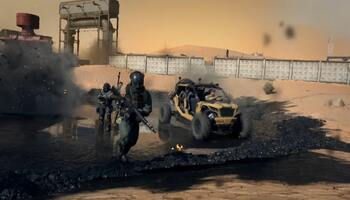 Call of Duty: Warzone 2

Videos