Canaan Online WAS a free-to-play, adventure MMORPG browser game for PC taking place in a cute, manga style universe developed by XPEC Entertainment and published in Europe by gPotato.eu. Similar to other games like Mixmaster Online, players could choose from five unique classes to build their character; the Warrior, Ranger, Mage, Priest and the NEW Druid, and then they could adventure the lands of Canaan. Players could also meet lots of different people and make friends or foes alike in this cute manga game. They could equip their character with strong, sturdy armour and weapons and start their adventure in the world of Canaan Online! Players could also step on the back of one of the many flying mounts available to players and travel across the manga universe, meeting friends and defeating your foes together, side-by-side, in an adorable, free to play MMORPG like no other!
GamePlay
A very big part of this browser game is to capture cute or powerful pets and train them to fight at your side. Each pet has different strengths and there are many different pets to collect. Players can also team up with friends to challenge exciting dungeons with terrifying monsters and great rewards, or even play together as a part of a guild.
For those players who enjoy a more competitive game, there is also Player vs Player combat, where players can challenge one another in battle. Guilds can also challenge each other to battles for control of resources and zones, so not only are guilds social and fun, but they also bring exciting challenges for players who like to compete against one another in PvP!
In the manga universe of Canaan Online, adventurers will hear of the tale of the four legendary heroes, and their quest to find four Sacred Animals that will save Canaan and lead its inhabitants to a true paradise land. Will you be able to follow in their footsteps and take on the epic quest? On your journey, you will take on many quests to help the people of Canaan, and by teaming up with your party of friends you will challenge many monsters, explore deep, dark dungeons and find shining treasure.
Players can collect and train cute pets, challenge one another and explore, and they will also be able to dress up and pamper their characters with costumes and jewels and show the adventurers of Canaan Online how fashionable they really are! You can also marry your sweetheart in Canaan Online's marriage system, giving bonuses to being in a team together as well as showing how much you love that special someone!
Game Features
– Five classes
– Unique pets
– PvP and PvE combat,
– Quests, dungeons
– Guilds
– Crafting systems
Canaan Online

Screenshots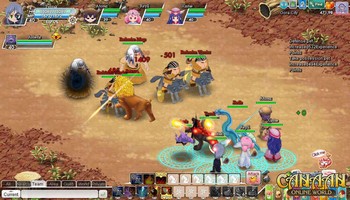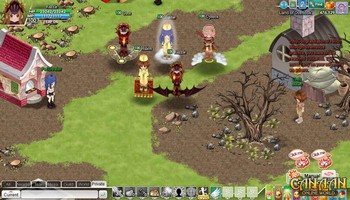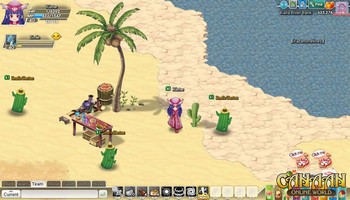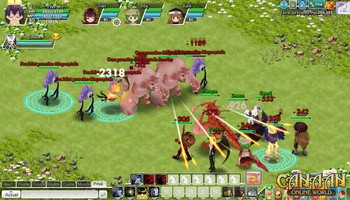 Canaan Online

Videos