Card Hunter is a free-to-play online collectible tabletop RPG and CCG game which blends together card play, deck building, tactical combat and fantasy role-playing in a way you've never seen before. Grab your cards, miniatures, dice and snacks, then journey to a new world of adventure on the tabletop of your Game Master, Gary. Card Hunter has pleased most players with its simplicity, its tabletop game look and feel, a neat story, deep mechanics and fun and the fact it is extensively offered for free.
Game features
Massive single-player campaign: Each adventure will challenge your deck-building skills and tactical prowess as you battle horrifying Black Oozes, savage War Monkeys and more.
fantastical swords, shields and more: In Card Hunter's unique deck building system, equipping your party with these items builds your deck for you.
Enter the fray on a grid based battlefield: Prepare for turn-based strategy where you must play your cards right to defeat your foes and be rewarded with experience and loot.
Challenge other players: in casual games, ranked matches or regularly scheduled leagues. Can you rise to the top of this month's season? Can you and your undead minions triumph in the Graveyard Gambol league? Multiplayer Card Hunter is a never-ending challenge.
Adventure co-operatively: with one or two friends and share the dangers of Cardhuntria as well as the rewards.
Free-to-play Model
Card Hunter is an unobtrusive free-to-play game whereby no content is locked at the expense of free players. You can pay for additional quests etc but you can have hours of fun for free in the 40 hours long free campaign. Pvp or co op are also unaffected by pay elements as not spending cash does not put you at a disadvantage.
Card Hunter

Screenshots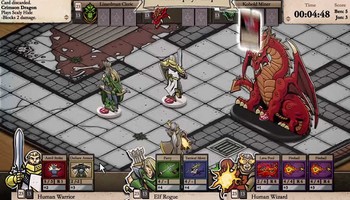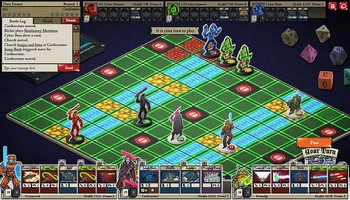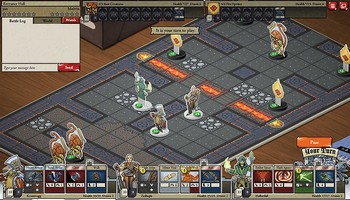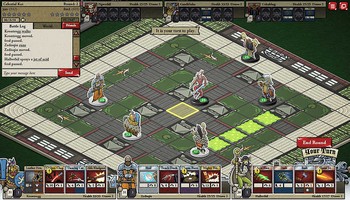 Card Hunter

Videos