Clash of clans is a free-to-play mobile combat strategy game, standing among the most successful titles in the mobile strategy type. Clash of Clans lets you form communities, called clans, train troops, and attack other players to earn resources. Build and defend your village; Dominate the Realm; Battle with thousands of players across the world. The game combines strategy with fast-paced combat. Players can join or create a clan and build an army of Barbarians, War Wizards, Dragons and more to defeat the Goblin King and other clans.
Game Features
Build Your Forces: Establish your village, build your troops, and protect your fortress with cannons, towers, mortars, bombs, traps and walls.
Epic Campaign: Use and upgrade 10 unique units and take on the Goblin King.
– Work With or Against Other Players: Battle against other players or join a clan to rise to supremacy over the realm.
– MMO Connectivity: Utilize Clash of Clans' social connectivity features to engage in global chat, real-time trades, and more.
Gameplay
Clash of Clans is an online multiplayer strategy game. Players build their village by purchasing items from the in-game shop using gold, elixir, and dark elixir as currency. They upgrade their buildings to unlock new items and expand their capabilities, train troops (which can also be upgraded to give more damage and health) and attack other players' villages to obtain additional resources to fund their village upgrades. They can also build and upgrade their village defenses to protect against the attacks of other players. Clash of Clans is a freemium app; although free to download and play, players can pay real-world money to advance more rapidly.
Players can also buy, for real money, an in-game premium currency called gems. Gems enable players to immediately finish building upgrades and speed up troop training and resource collecting immediately (otherwise you[who?] have to wait a set amount of time to upgrade buildings and train and upgrade troops). Gems can also be used to buy large amounts of the regular in-game currencies of gold, elixir and dark elixir without having to either wait for your[who?] mines to produce it or raid other villages to acquire it. It is also possible to earn a limited amount of gems by completing achievements and clearing in-game obstacles such as trees, rocks and mushrooms. Gems cannot be stolen from other players when raiding. There is a cooperative element of the game as well. Once a player has rebuilt the Clan Castle ruins in his or her village, he or she can begin or join a clan with other players where they can chat with each other and donate troops to each other; these troops may be used either offensively or defensively.
The game also includes a region-based global chat so players can communicate with other players for social interaction as well as clan recruiting. But unlike the clan chat it is cencsored. If you[who?] get 7 reports you[who?] are banned for 24 hours. Some[specify] reports of child protection issues have occurred as a result of the free text clan chat function. The chat function can also lead to other behavioral problems in the game which can be addressed through bans applied to usernames. The issue of escalating credit card bills as a result of child access to the game has been reported.
Clash of Clans

Screenshots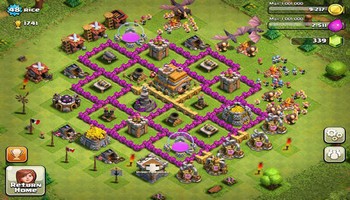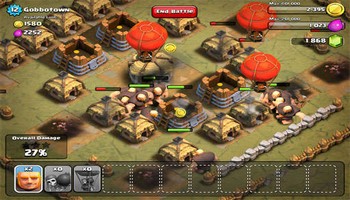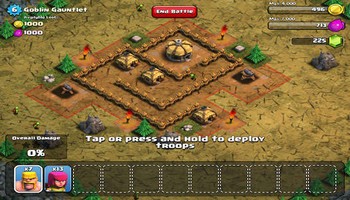 Clash of Clans

Videos