Conquest of Champions is a blend of Collectible Card Games and deep turn-based tactical strategy. Think 'Magic the Gathering' meets 'Warhammer' or Chess. Build your personal deck strategy and bring your cards to life by summoning fully animated creatures, casting devastating spells, and equipping powerful weapons all within battlegrounds that are reminiscent of tabletop miniature warfare. You can choose to complete an entire match in real-time or you can take turns asynchronously and complete matches that extend over several days.
Conquest offers both PvP and single player options. In PvP you can challenge your friends or climb the leaderboards & compete in tournaments by battling ranked opponents. Currently our single player options are just practice battles but our development roadmap includes full campaigns and boss battles.
Conquest is free-to-play in that you are given a free Hero and starter deck when you register which is everything you need to be competitive. You will earn additional cards, components (used in crafting), gold, and experience just by taking ranked turns and completing matches and quests. As you play you will be able to expand and customize your deck with the cards you unlock. If you aren't sure which faction to use, feel free to create alternate accounts to try them all!
Game Features
3 game modes: Single Player Campaign, Asynchronous PVP, or Real Time PVP.
Customize unique decks: with over 130 cards at launch.
3 Factions to choose from: Stonehold (Dwarves and Constructs), Briarwood (Elves, Beasts and Treefolk), and Embercult (Demons and Undead)
Each soldier has unique attributes: and up to two special abilities such as 'Double Attack' or 'Chain Lightning'.
Earn experience, gold, components, and cards: by taking turns in ranked matches or completing friendly matches.
Global ranking system: play ranked games to climb the leaderboard.
Make cards more powerful: by fusing them together.
Craft exotic rare cards: by completing sets of components earned through gameplay.
Regular Tournaments: scheduled seasonally
Exchange strategies: with your friends via the lobby chat.
Cross-Platform play: Mac/PC and coming soon for iOS and Android tablets and mobile devices!
3 Unique Map Backgrounds: (Mountains, Forest, Caverns), each with multiple map layout variations.
Conquest of Champions

Screenshots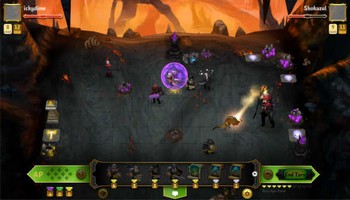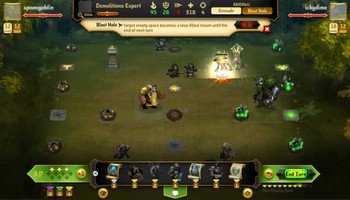 Conquest of Champions

Videos