Darkwind: War on Wheels is an independently developed semi-retro 3D turn based racing and vehicle combat MMO. The game is focused on vehicular combat – cars, trucks, motorcycles with guns – both in wild environments and in man-made arenas and racing circuits. There are many activities to do within the game: Players can gain fame and accumulate looted hardware from their defeated adversaries in the wilderness by joining together in multi-player squads or they also join town events, such as races and death races, to gain fame and earn prizes. There are two phases in this turn-based combat system: One is the Orders phase, in which players will see their vehicles move according to many factors, including the vehicle's position, damage to tires, previous velocity, whether it is under fire etc. The second is the firing phase, whereby vehicles open fire on their targets.
Darkwind is the only car game we know of that combines accurate physics with turn-based play. The race becomes purely about the tactics of entering and exiting corners, overtaking, and generally breaking down the nuances of driving.
Game Features
– Highly detailed rules for movement, including rigid body physics, terrain properties, slipstreaming/drafting, per-chassis characteristics.
– Highly detailed rules for combat, including skills, specialisms, detailed weapon characteristics and recoil/splash effects, critical hits and detailed damage and injury resolution, damageable tyres, suspension, engines, weapons and chassis
– Real real-time strategy: travel, healing, training, car modifications/repairs all run to a real-world timescale
– Detailed economic simulation: trade, piracy, starvation. The economic cycles of Darkwind take months of real-world time, and are affected by trade conditions and the amount of piracy occurring on the road.
– Player ownership of production facilities and warehouses & camps
– Scheduling system for attacks on player or NPC-owned installations
– Contracts of work (delivery, bodyguard, etc.) available from NPCs
– Psionic powers available to a small number of gifted individuals
Game Plot
A disastrous solar event in 2019 and 2020 leaves the world devastated, with only small pockets of human survivors scratching out a living in a bleak, irradiated world. Largely fuelled by the stockpiles of hardware left behind by a dead civilization combined with the desperation of a new world order, the gladiatorial deathsports begin, around 2035. The vast expanses of wilderness between the towns are menaced by gangs of road pirates armed with heavily armed cars and trucks, and travelled by equally well armed trade groups, making a living by carrying food, fuel, and other specialist equipment between the towns.
Darkwind – War On Wheels

Screenshots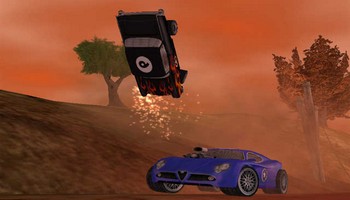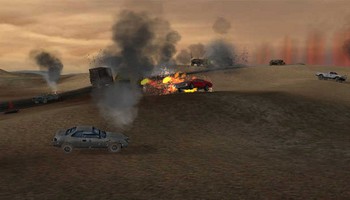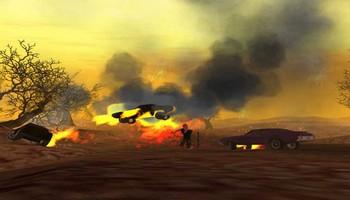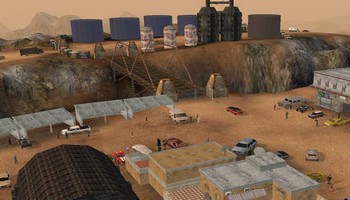 Darkwind – War On Wheels

Videos