Dust 514 (stylized as EVE: DUST 514) is a free-to-play first-person shooter MMOFPS developed by CCP Games for the PlayStation 3. Dust 514 takes place in New Eden and is directly connected to CCP's game, Eve Online. There is direct interaction between the two; player actions in one game affect the political and economic status of the other. The two games were officially connected on January 10, 2013, while the open beta started on January 22, 2013. The full game was released worldwide on May 14, 2013. Unlike Eve Online, Dust 514 does not require a monthly subscription. It instead uses a micro-transaction model, making the game free to play. The game has two currencies: Aurum, which can only be bought with real money, and ISK, the currency in Eve Online which can be earned in both games. CCP's chief marketing officer, David Reid, has compared this model to that of League of Legends. Reid has said that Dust 514 is not a "pay-to-win" game.
Game Plot
Dust 514 takes place in the same fictional universe as Eve Online, a science-fiction MMORPG set 21,000 years in the future. The Eve Online backstory explains that humanity, after using up the Earth's resources, began to colonize the rest of the Milky Way. The development of faster-than-light travel allowed mankind to expand at an extremely fast pace, leading to violent competition between space-faring corporations. A natural wormhole was discovered, and humanity entered through it to find an empty new galaxy which they began colonizing. However, the wormhole connecting the two galaxies collapsed, leaving the young colonies cut off from the worlds that had supplied them. Without support, many of the colonies in the new galaxy died off, and over time the few that remained lost their knowledge of both their technology and of their origins from Earth. Eventually, a new era began when civilization was rebuilt and faster-than-light travel was rediscovered. Five unique space-faring cultures emerged from the colonies to become the only interstellar powers in the new galaxy.
Eve Online players take the role of capsuleers, who are elite starship pilots made immortal using cloning technology and consciousness transfers. For much of Eve history, only capsuleers were immortal because the technology required to download consciousness was linked to a capsule that encloses them and leaves them in suspended animation. The capsule was designed specifically as an interface for pilots to control the ship that they were placed within. However, the discovery of a special implant made it possible to achieve a transfer of consciousness without the use of a capsule, so it became possible to make immortals that were not pilots. Dust 514 players take the role of immortal ground-based soldiers which were created by the military shortly after the implant was discovered.
Gameplay
Dust 514 is a first-person shooter with elements of massively multiplayer online games. Combat takes place on the various planets found in Eve Online, each of which offers a unique map. Planets are divided into several large districts, which hold resources and installations that dust players must fight for control over. Only the natural landscape of each planet remains constant; the placement of buildings and surface structures is controlled by the player corporations.
Infantry in Dust 514 are equipped with "dropsuits" which function similarly to the ship hulls in Eve Online. Dropsuits have various module slots which players can utilize to fit different weapons and equipment. This gives players a broad range of customization choices and the ability to create specialized fits to perform specific roles and tactics on the battlefield. Skill training, in a manner similar to Eve Online, is also available. CCP has stated that it would take seven years to train all skills, and that it was not intended for any player to learn all of the skills. Instead, CCP believes that players will naturally become specialized by selecting a certain set of skills and becoming "really, really good at them." Player-driven vehicles are also available in the game; these can be transported to anywhere within the battlefield using "rapid deployment vehicles" at the request of players. Vehicles share the modular fitting system that infantry dropsuits have.
Both teams will have a "commander" who can oversee the planetary combat and make tactical decisions from a real-time strategy-style perspective. The commanders reside within a massive aerial fortress known as the "mobile command center". According to CCP, mobile command centers require fuel to run systems such as turrets and energy shields, and it is up to commanders to extract fuel from sources within the battlefield. The goal of each team is to destroy the opposing mobile command center.
Although Dust 514 players are mercenaries, they can also seize territory from planets within the Eve universe for their own alliance and corporation, which takes place in the form of Corporation vs. Corporation matches. This allows Dust corporations to build infrastructure on captured territory, but it is unclear what manufacturing power Dust corporations will hold. Currently the only planets that battles take place on in which both eve players and dust players can work together reside entirely in faction warfare space. Control of a district on the planets currently directly affects the difficulty of system capture through the use of the new Dust 514 district capture status modifier.
Although Dust 514 does not have a single-player campaign, CCP has confirmed that there will be a survival game mode which pits players against A.I. controlled rogue drones.
Dust 514

Screenshots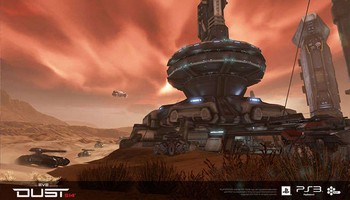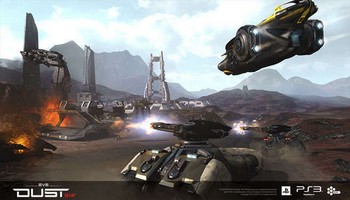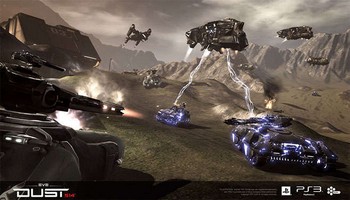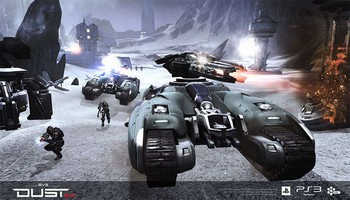 Dust 514

Videos