Ember Online is a free to play Graphial MUD (GMUD) role-playing game. Play classes such as Knights, Sorcerers, Bards, and Assassins in an interactive fantasy world made up of text-based commands, graphic illustrations and your imagination. Ember Online boasts tons of equipment with many ways to power up gear. The game is set in the kingdom of Alderra on the continent of Ciruin. While much of Alderra is forested, with cities and roads settled in clearings either natural or man-made, much of southern Alderra has been cleared by loggers, and has become a vast and unforgiving wasteland. To the northeast is a large, impressive mountain range, which separates Alderra from its violent, war-loving neighbor, Omaclara.
When beginning in the game, players may pick from one of twelve races, twelve classes, and may follow one of five deities. Each of these choices will have an impact upon your character's performance, and while there is no "best" combination, each choice should be carefully considered, as these cannot be changed without starting a new character from scratch. While playing the game, you may come to realize some players aren't quite so friendly as others, and they may lead you astray, or even attempt to kill you. Let's hope you know how to run…
Game Features
▶ Daily PvP/Pve staff run events! Where you can earn points to buy the most powerful equipment.
▶ Over 40 daily and weekly quests for those with limited time but still want great progression and rewards!
▶ New dungeons, areas, and bosses introduced regularly.
▶ Game progression available through different avenues (PVP, PVE, quests, grinding).
▶ Fun combat environment that encourages a mix of different classes, divinities, and skills.
▶ Active community, Rich world full of detailed stories, and artwork.
▶ Graphical MUD interface that allows different ways to play the game.
▶ Regular updates (Dev Change Log) https://ember-online.com/forums/viewforum.php?f=50.
▶ Active developers willing to discuss game changes.
▶ Game balance regularly analyzed and tweaked.
▶ Player feedback encouraged and implemented where appropriate.
▶ Strong anti-corruption measures to ensure no unfair advantages.
Ember Online

Screenshots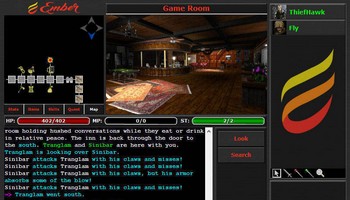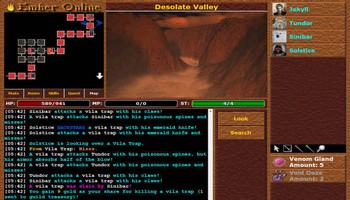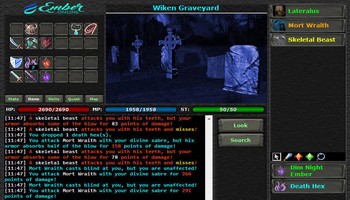 Ember Online

Videos