Enlisted is a free-to-play multiplayer/MMO squad-based shooter for PC, Xbox Series X|S & PS5, developed by the creators of War Thunder using the latest version of the Dagor Engine, and currently in open beta for everyone to play. Enlisted is built around some of the most important and famous episodes from World War 2. In Enlisted, players can experience these famous battles on a massive scale through the real heroes of those encounters – the soldiers, with each player being assisted by its own AI squad. Engagements with up to hundreds of soldiers fighting simultaneously will be held on different fields of battle with maps up to hundreds of square kilometers.
Popular World War II battles will be present in the Enlisted in separate campaigns. To re-create each of these battles requires not only the creation of separate content like new locations, characters, weapons and vehicles – it also requires a huge amount of work on creating the game rules and balance in them. This is why each campaign will be developed separately from each other.
Game Features
▶ SCALE: There are hundreds of soldiers, armoured vehicles and aircraft in every battle, reflecting the scale of historical battles such as the landing at Omaha Beach etc.
▶ REALISM: The game gives a feeling of participating in a real military battle, re-creates the atmosphere of the Second World War and is careful with details.
▶ VARIETY: In the same battle you can clear a trench with a flamethrower, play as a mortar gunner, break through defenses in a tank and cover allies from the air in an aircraft.
▶ RTS MODES: In some modes, players won't be fighting alone on the battlefield, they will be leading their own squad of AI controlled soldiers, this will grant a unique scale to the combat.
▶ DAGOR ENGINE: The latest version of the Dagor Engine is able to calculate huge detailed spaces, dynamic water and skies, while using physically based render.
▶ IN-DEPTH GAMEPLAY: teamplay, as well as the correct evaluation of actions with a given situation on the battlefield, and weapon and character capabilities are essential parts of Enlisted. Players will gradually unlock new characters who will all have different playstyles and a wide weaponry selection.
▶ CROSS-PLATFORM: PC, PS5 and Xbox Series X|S players can play on the same battlefield.
Enlisted

Screenshots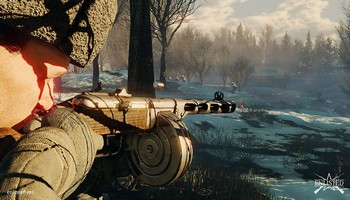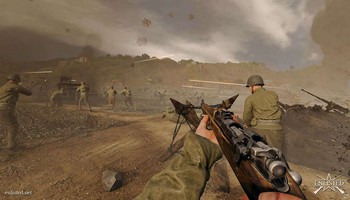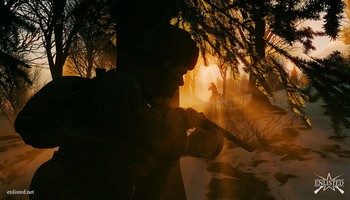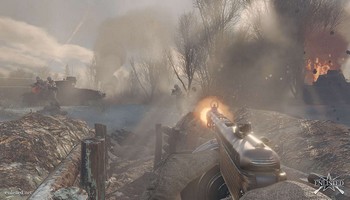 Enlisted

Videos
trailer
trailer 2
trailer 3