Exomecha is an upcoming free-to-play online competitive first-person shooter (FPS) for Xbox (delayed from August 2021 to Q1 2022) and PC (unknown date), that takes place in OMECHA, a new and untouched planet with exotic environments similar to FPS classic Crysis. The game is set to provide a breathtaking AAA gaming experience with its flexible playing style, mechs, vehicles, unique gadgets and abilities, and boss battles. Exomecha game modes include an immersive experience with large scale team-based battles, a unique battle royale game mode, and an objective-based game mode.
Game Features
▶ Fully Customizable Class System: ability and class system provides players with full control over their character builds and desired play style. The class system determines how many abilities, weapons, gadgets, and tacticals players can equip pre-match and upgrade in battle, with each choice bearing different penalties to balance the character build.
▶ Chrome and Shiny Mechs: inspired by the '80s and '90s. Player visibility won't be an issue.
▶ Comprehensive Vehicle Roster: In addition to mechs, five other vehicles can be driven to navigate across Omecha including quad bikes (swift and handy but fragile), jeeps (light vehicle mounted with turret), heavy tanks (slow rate but highest damage canon), spider tanks (all terrain tank with fast canon reload), and helicopters (very fast but also very fragile).
▶ Grappling Hook: Used to enter all vehicles quickly, including instantly ejecting yourself from one vehicle into another vehicle, regardless of player position on the Y axis, hereby providing high pace, uninterrupted action.
Exomecha

Screenshots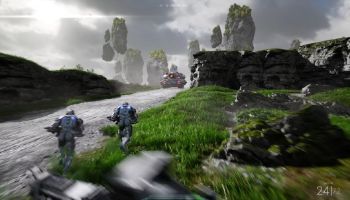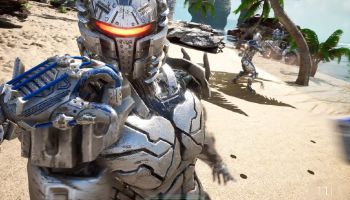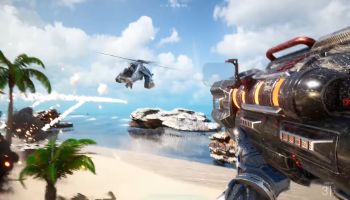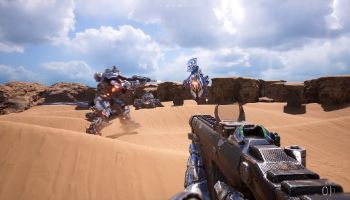 Exomecha

Videos