Gotham City Impostors is a free-to-play Batman-themed multiplayer First-person Shooter (MOFPS) developed by Monolith Productions. Gotham City Impostors is fun-to-play and watch as violent impostors dressed up like Batman fight against criminals dressed up like the Joker in open warfare on the streets of Gotham City, using all sorts of crazy-looking weaponry. Gotham City has indeed gone a little insane, and expected from a batman-themed game, it is possible to glide, jump-fly and grapple yourself around the map to execute your enemies whilst collecting awesome gun skins hidden in crates. Gotham City Impostors can be played with up to 12 players on a single map (6v6).
The game is not pay-to-win and has been largely praised by its players, with around 90% of them leaving positive reviews. Negative reviews are usually related to the recent lack of content updates, making addicted players a little sick from it. The matchmaking system is relatively balanced in design but because the game is underpopulated now, there are much less chances of finding games that fit your level, in the beginning, leaving a few new players bitterly frustrated.
Game Features
Customization: you get to choose the guns, gadgets and even the hairdos that fit your personality and play style. It doesn't matter if you want to be a mighty muscleman on roller skates with a hunting bow or a lithe lassie packing a homebrew rocket launcher and glider wings, Gotham City Impostors does not have rigid character classes and lets you play the way you want.
1000 levels: A robust level up system lets you unlock all the items required to make your impostor as crazy as you desire.
Game Modes: solo challenges designed to test your skills and reflexes or several multiplayer modes to compete on the ladder.
Free-to-play Features
Gotham City Impostors is a truly free-to-play and free-to-win game as you can get almost everything by playing and collecting items, with exclusive items that you have to pay for being relatively indecisive in drawing the outcome of matches. In other words, if you jump into this game for the first time now, you will be overpowered by both players who have bought packs and items, and players who have played long enough to collect those items. As a free player you will probably have a harsh start and will have to patiently learn and collect the hard way.
Gotham City Impostors

Screenshots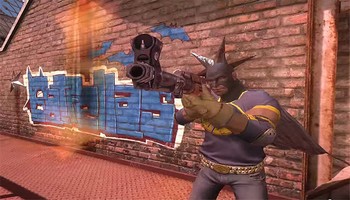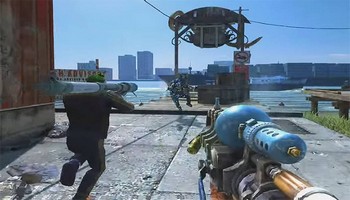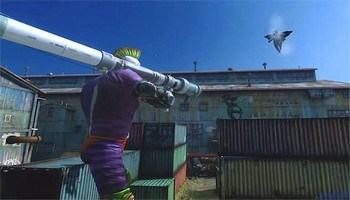 Gotham City Impostors

Videos
trailer
trailer 2
trailer 3