Hawken is a free-to-play multiplayer mech combat FPS video game for Console (Xbox One, Xbox X/S and PlayStation 4) developed by Adhesive Games and published by 505 Games. Hawken places you inside a mechanized war machine on the battlefield of a dystopian world. This strategic, fast-paced, first-person shooter features incredible alien landscapes, customizable and upgradable mechs, and dynamic gameplay across multiple competitive game modes. The game focuses on creating an intense battle experience that captures the feel of piloting a mech while keeping the action fast-paced and strategic. It has been confirmed that the game will feature two unique game modes, as well as conventional team deathmatch and free-for-all modes. The open beta of the game was released on December 12, 2012 for PC. Hawken's PC version was terminated on 2018-01-02. The console versions remain.
Gameplay
The player assumes the role of a battle mech pilot, armed with cannon-like weaponry. Unlike many other first-person shooters, weapons will not require ammunition but are prone to overheat. Overheating will shut down all weapons of the mech, forcing the player to find a safe place to recover. It will be possible to choose weapons and upgrades for all mech types to match a play-style or role in a match. In combat, the player will be able to side dash, boost, and make 180° turns to compensate for the slow movements of the mech, which will in turn deplete the fuel gauge rapidly. Turrets are also featured in the game as two types: stationary and placeable. Stationary turrets will be aligned to the team which activates the turret, while placeable turrets can be picked up and placed around the map by anyone.
Game Features
Fast Mech Gameplay: War is a Machine. Pilot hulking death machines and use massive weaponry to destroy your foes.
18 Unique Mechs: Determine your method of mass destruction. Choose from 18 unique classes including the lightweight assassin like Reaper, the medium blitz mode Raider and the heavy tank-like Incinerator. Each mech is unique with their own special abilities, stats and weapon loadouts.
5 Game Modes: Play cooperatively or competitively in the 5 game modes available. Deathmatch, Team Deathmatch, Missile Assault, Siege and Co-Op Bot Destruction.
Stunning Dystopian Environments: Experience a planet in the depths of war. Battle across decaying cityscapes, desert towns, post-apocalyptic wastelands, jungle outposts and secret weapons facilities.
Loadout Customization: Customize your playstyle with a wide array of internals that offer passive improvements, as well as offensive, defensive and functional items. There's also a plethora of cosmetic enhancements to truly personalize your mech.
Arsenal of Weapons: Choose your weapons wisely. Massive sniper rifles, rotary cannons, ballistic spike guns, fireball launchers, corrosive chemical weapons and dual mode explosive launchers are just a few of your options for ordnance.
Variety of Items: Use the right tool for the job. Deploy a hologram to fool enemy mechs, use an EMP to shutdown their core systems and then launch a high explosive grenade or detonator for their fiery demise. Choose from 12 unique items which offer a variety of gameplay.
Enhanced NVIDIA PhysX: Take your battle experience to the next level with the latest in NVIDIA's PhysX technology. Explosion and particle effects are incredibly more detailed to provide the optimal visual experience of mech warfare.
Oculus Rift Support: Fully immerse yourself in mech battles with gameplay support for the Oculus Rift.
Free-to-play Model
Hawken has a fairly good F2P model and doesn't qualify as pay-to-win. The default mech character you receive for free is perfectly balanced with the other "medium sized" mechs, all 3 sizes being important in any given match. Advantage you get from upgrades is also lightweight compared to the importance of skills and tactics. Unlocking those upgrades or different mechs/weapons can take some time, but it can be done without purchase. The exclusive items, only accessed with a purchase, are mainly cosmetic skins.
Hawken

Screenshots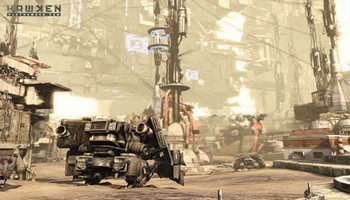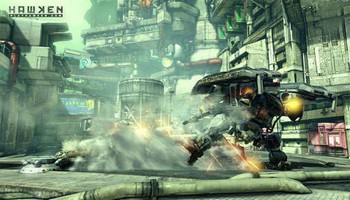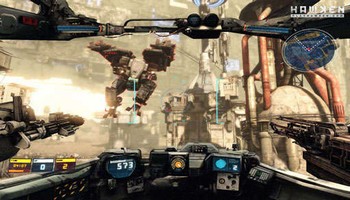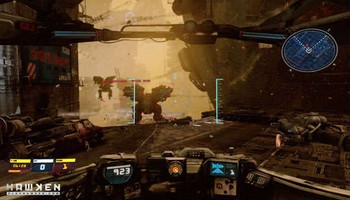 Hawken

Videos
trailer
trailer 2
trailer 3
gameplay