Illyriad
is a free to play massively multiplayer online persistent browser-based strategy game. Unlike many browser games, there is no set goal. The game is played on an infinite-round basis—there are no resets planned. There is a genuine diversity of winning strategies; where different players' gamestyles are valid options reflected in the game mechanics. It is a game where players could choose their own path to victory without being limited to a small set of pre-defined options.
Features
– Free-to-play and no downloads, each server has a capacity of over 60,000 simultaneous competing players
– Fully interactive and richly detailed gameworld
– Hundreds of military units including: Infantry, Spearmen, Cavalry, Archers and Siege engines
– Multiple military strategies including: Attack, Raid, Occupy, Reinforce, Siege
– Full technology tree of over 450 research options
– Rich set of "diplomatic" options including: Spying, counter-intelligence, theft, sabotage and assassination
– Multiple races to choose from including Dwarves, Elves, Humans and Orcs – each with race-specific abilities
– Dozens of unique spells to cast to help yourself and your allies or harm your enemies
– Simple-to-use but powerful trading system in an entirely player-driven marketplace
– Powerful alliance management system to help you build and sustain your empire with other players
– Over 90 NPC factions – each with their own agendas.
– Craft dozens of unique weapons and armor for your troops.
Gameplay
Illyriad is set in a persistent fantasy world – when a player logs out, the game continues. Players start with a single town in which they construct and upgrade buildings and conduct research to unlock new technologies. Player civilizations can be expanded by conquering cities, sending settlers to colonize new lands or claiming sovereignty to expand player influence. It has a gameworld of over 4 million squares – the majority of which can be settled with a city.
The game has four playable races, each with their own advantages and disadvantages: Humans, Elves, Dwarves, Orcs.
There are five basic resources: Wood, Clay, Iron, Stone and Food. They are generated by the Lumberjack, Clay Pit, Iron Mine, Quarry and Farmyard respectively. Mana and research are produced by the mage tower and library, and used for magic and research. Gold is the currency in the game, which is used to pay wage for troops, caravans and diplomats as well as in player to player trade in the marketplace. Advanced resources are built from basic resources: horses, livestock, beer, books, spears, swords, bows, saddles, leather armour, chainmail, plate armour and siege blocks. These are used in the construction of military and diplomatic units.
It also has magic with several spell schools; a commodities trading marketplace and quests which are different based on player race.
Illyriad's military unit categories are: Infantry, Spearmen, Cavalry, Archers and Siege engines; with multiple strategies including attack, raid, feint, occupy, reinforce, blockade and siege. Combat is both PvP and PvE. Army commanders gain experience from combat which the player can use to train the commander's skills.
The "diplomatic" research options include: Spying, counter-intelligence, theft, sabotage and assassination.
With the right technologies researched, using an army a player can claim sovereignty on occupied territory for various advantages.
Illyriad

Screenshots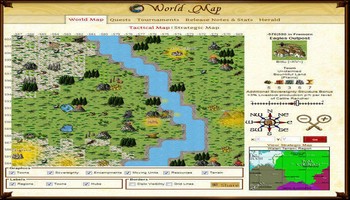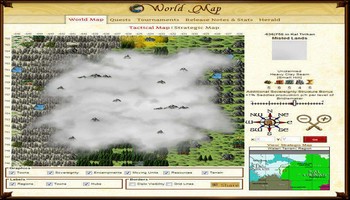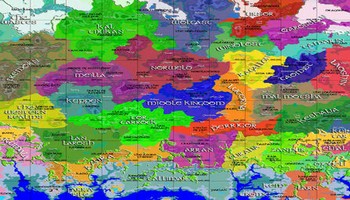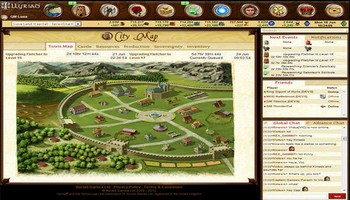 Illyriad

Videos
trailer
gameplay
gameplay 2