Lusternia: Age of Ascension is a free to play browser text and graphical MMO RPG or MUD (multi-user dungeon), set in a multi-planar realm where factions struggle to amass reservoirs of magical energy simply to survive in a land corrupted by an ancient evil. Breaking new ground in dynamic roleplay, quests and a unique skill system, Lusternia is sure to challenge experienced gamers and delight those new to the genre of text worlds. Discover the rich world of Lusternia and its endless possibilities! Vie for power and influence as a leader in one of dozens of player-run organisations. Compete for top rankings in combat, or become a learned scholar and teach the masses about Lusternia's rich history. Delve into the complex economy, master a tradeskill or two, and amass a fortune in gold. Commission a ship and explore the depths of aetherspace. And much, much more!
Gamefeatures
– Lusternia is 100% Free to Play, Forever!
– Create a Character In Minutes and Play Right in your Browser
– Unique Skills like Nihilism, Pyromancy, Necroscream, and Ninjakari
– Get your own Aethership and Explore the Vast Expanses of Aetherspace.
– Hundreds of Different Quests to discover and puzzle out.
– Fight, Compete, Trade and Ally with Hundreds of Real Players.
– 20 Playable Races.
– 7 Different Archetypes.
– Player Driven Politics.
– Economy and Trade Crafts.
– Rich History & Mythos.
– Fast Paced Combat.
– Cities and Nature Communes.
– 28 Unique Guilds.
– Gods and Religious Orders.
– Player Housing and Ships.
– Planar Travel.
Lusternia: Age of Ascension

Screenshots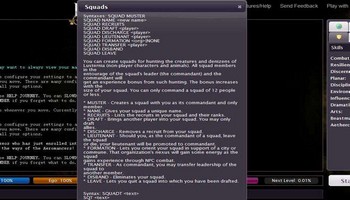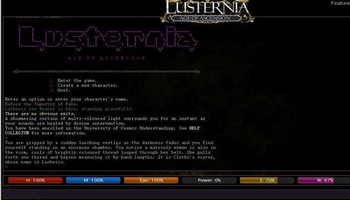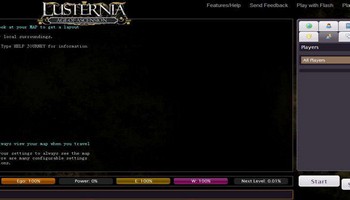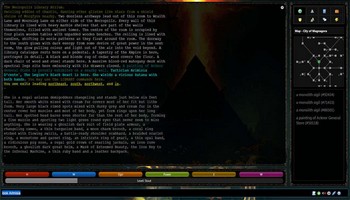 Lusternia: Age of Ascension

Videos