Magic: The Gathering Arena is a free-to-play and authentic Magic trading card strategy game for PC, designed for gamers, fans, and streamers by Wizards of the Coast to translate the rich world of Magic into modern digital gaming experiences. MTG Arena is intended to be the ultimate way to play the latest card sets in Magic. It is available to download with no fee and is a fully free-to-play-game. Magic: The Gathering Arena is now in open beta for all players to join. MTG Arena follows the same rules as the physical card game, with players using decks of cards that include land cards that generate mana, and play cards that consume that mana to summon creatures, cast offensive and defensive spells, among other effects. Players battle other players using a selected deck, with the goal of reducing the opponent's health to zero before their opponent can do the same to them.
Game Features
Authentic Magic: This is real Magic for the modern era. Play, collect, and build online just like you would at your kitchen table or local game store.
Play your way: The game will grow to give you many ways to compete against others and explore new strategies.
Fast-paced Gameplay: We want every match to feel fun and exciting, without sacrificing on depth and strategy.
Evolving game: MTG Arena is built to grow with how and where you like to play games.
By players, for players: We want to make MTG Arena the digital Magic experience gamers have been asking for.
Free-to-Play Model
MTG Arena runs a free-to-play model with optional micro-transactions. Players looking to enhance their game experience have the opportunity to do so through in-game purchases of gems, but purchases are not required to access the full depth of authentic Magic gameplay. You will be able to play games of Magic and grow your collection without having to purchase and spend gems. Gems will be available to purchase for players who want to accelerate their collection. Gems can also be unlocked in limited amounts as rewards from certain in-game free-to-play events. They do host some events that can only be entered with gems, but these gems can be earned from other events.
Magic: The Gathering Arena

Screenshots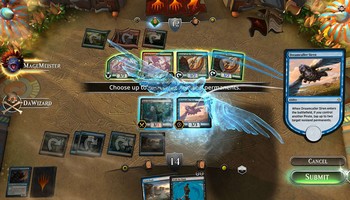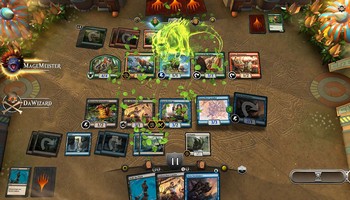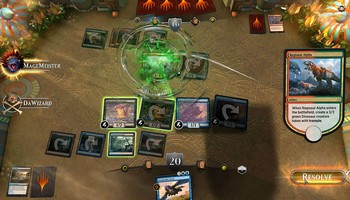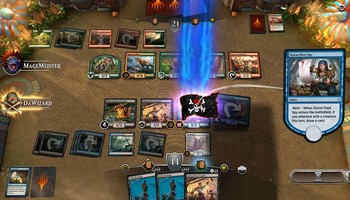 Magic: The Gathering Arena

Videos