Marathon (Aleph One) is the free, open source continuation of the original sci-fi FPS classic Marathon, released for Mac OS in 1994 by Bungie and created by Jason Jones, Alex Seropian, Greg Kirkpatrick. This is the first instalment in the Marathon game series, which is regarded as spiritual predecessors of Bungie's Halo series. Aleph One is the open source continuation of Bungie™'s Marathon® 2 game engine under GNU General Public License, and supports Marathon, Marathon 2 and Marathon Infinity natively on Mac OS X, Windows, and Linux! Many third party Mods (scenarios and maps) are also available to further enrich the game's content, both in single-player and multiplayer. The iOS version linked to here is published by Soli Deo Gloria Productions and features optional paid HD on the App Store.
Multiplayer & Coop Modes
Multiplayer matches or co-op can be played up to 8 players through peer-to-peer and work over a LAN or, if the host is configured properly, over the Internet. You can find and chat with other players in Aleph One's global matchmaking lobby (https://www.lhowon.org/faq).
Every Man For Himself: Standard deathmatch mode whereby the winner is the person or team with the greatest score.
Cooperative Play: Where players assist each other in completion of certain levels with scores based on alien kills.
Kill the Man With the Ball: where the objective is to hold a skull for the longest amount of time.
King of the Hill: where players try to remain alive in a designated area for the longest amount of time.
Tag: The first player to be killed becomes "It". If a player is killed by "It", he becomes the new "It". While "It", the game increments the player's clock. The players are ranked at the end of the game by who has the least time as "It".
Game Plot
Set in 2794, the player is a security officer aboard an giant human starship called the U.E.S.C. Marathon, which orbits planet Tau Ceti IV, a human colony. The player's objective is to defend the ship (and its crew and colonists) from a race of alien slavers called the Pfhor. As he fights against the invaders, he also discovers suspicious interactions taking place on the ship's AI.
Marathon

Screenshots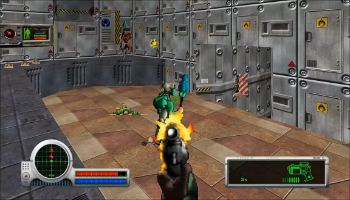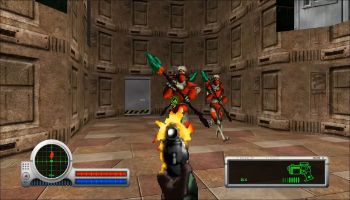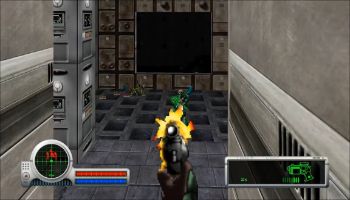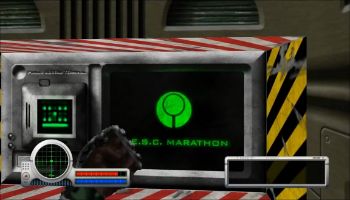 Marathon

Videos