Marvel Snap is a free to play* multiplayer CCG (collectible card game) for PC (Windows) and mobile (Android, iOS) published by Nuverse. Marvel Snap unleashes the complete MARVEL Multiverse into a fast-paced, adrenaline-pumping, strategic card battler. Assemble your team from a limitless dream roster of Super Heroes and Villains, collect endless card art variants, and experience super-powered play—all in just three minutes. You win a match by owning more locations than your opponent. This is done by gaining more points on that location than your opponent at the end of the game. Points at each location are decided by the power of heroes at this location, the ability of heroes on the ground, and the effect of this location.
Game Features
▶ SUPER FAST: No more waiting around! Every game lasts only around three minutes. We cut out the fluff to focus more on the good stuff.
▶ EVERY MATCH FEELS DIFFERENT: Play your cards at 50+ different locations from across the Marvel Universe, each with iconic game-changing abilities. From Asgard to Wakanda, new locations are introduced weekly to put your creative problem-solving skills to the test.
▶ PLAY MIND GAMES: Feeling confident about your chances of winning? Just "SNAP" to raise the stakes during a match. Hey, even if you're bluffing—you could double your rewards!
▶ I AM GROOT: I am Groot. I AM Groot. I am GROOT. I am Groot? I am Groot. I AM GROOT! I am GROOT. I am Groot?
▶ FLEX YOUR OWN STYLE: No other game lets you collect, mix, and match hundreds of hero and villain variants from the entire MARVEL Universe—and beyond. You might have a classic comic inspired Iron Man card, but do you also have the Chibi, 8-bit, and Cartoon variants? Endless art styles let you flex your favorites in unique new ways. You do YOU!
▶ FRESH CONTENT ALWAYS: MARVEL SNAP stays fresh and exciting with new cards, new locations, new cosmetics, new season passes, new ranked seasons, new challenges, new missions, and new events on the regular.
Free-to-Play Model
*Marvel Snap is generally regarded as F2P-friendly, and not pay-to-win (P2W), as all game modes can be played for free, and the amount of in-game rewards earned through various giveaways, events and challenges are enough for players to collect the cards needed to build various competitive decks for free, within a reasonable time frame (moderate grinding). As with any other F2P collectible card game, most cards are earned or purchased through a randomized loot/pack system (the actual product being unknown at the time of purchase).
Marvel Snap

Screenshots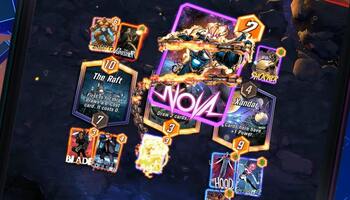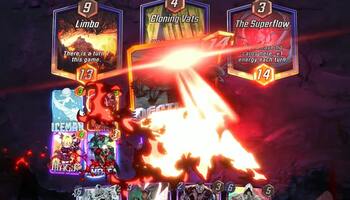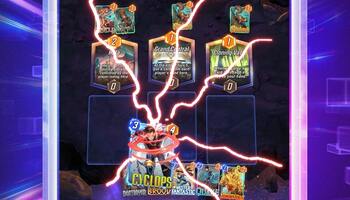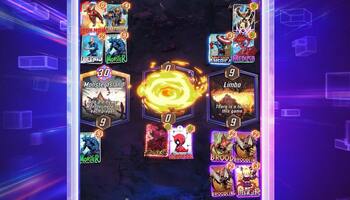 Marvel Snap

Videos