MechWarrior Online is a free-to-play action multiplayer FPS game currently in public beta status, under development by Piranha Games for the Microsoft Windows platform. It's set to be a premium free-to-play game based on four pillars: Mech Warfare, Role Warfare, Community Warfare, and Information Warfare. Players will be able to take command of their BattleMech battlefield behemoths and customize them to suit their favored combat roles by upgrading systems, replacing weapons, and tweaking armor from a vast list of options. Ally with one of the five great houses, or create your own Mercenary Corps and take on other Merc Corps for control of the Inner Sphere planets.
Gameplay
MechWarrior Online is a real-time game, in which one day in the real world is equal to one day in the game. January 1, 2012, is equal to January 1, 3049.
Players take the role of piloting BattleMechs, and can align themselves with one of the Great Houses, form their own Mercenary Corporation, or play as a lone wolf. Of note for this particular timeline in the MechWarrior universe is the impending arrival of the Clans upon the Inner Sphere Houses.
MechWarrior Online puts MechWarriors into team-based and tactical battlefield where the victors swim in the spoils of war and are rewarded with the almighty C-Bill (in-game currency).
Each team has 8 players and the two teams are pitted in combat in an enclosed battlefield. Communication is key, be it in-game chat, integrated C3, or a third party VOIP solution, keeping in constant communication with your teammates will drastically increase your team's chances of success.
The various weight classes of BattleMechs help create their own evolving roles on the battlefield. Fast moving scouts can feed target and tactical information back to the main battle group and the team commander. This information allows the support and assault role pilots to decide where to put their resources to work. Long-range fire support and heavy hitting assault class Mechs will use this invaluable information to finish the job at hand. It is up to you, the pilot, to customize your BattleMech's loadout and electronic systems to fulfill the role you want to take.
Plot
A tactical BattleMech simulation set in 3050 AD. As a pilot known as a "MechWarrior", you are about to take control of the most powerful mechanical battle units the universe has ever seen. The game is set in a 1:1 timeline with the BattleTech universe, meaning that the current year 2013 equates to 3050 in BattleTech lore and each day that passes in real life also passes in the game. This means we are on the brink of the upcoming Clan invasion and utilizing the latest in technology available in the 3049 timeframe.
MechWarrior Online

Screenshots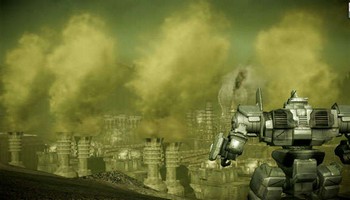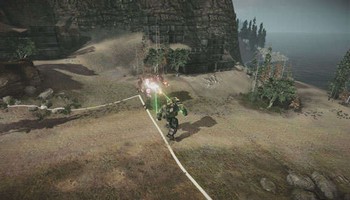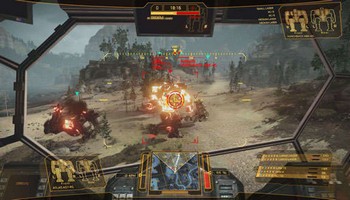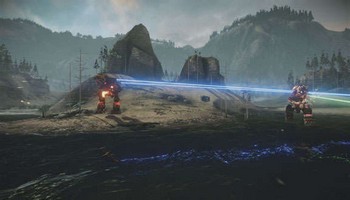 MechWarrior Online

Videos
trailer
gameplay
gameplay 2