MicroVolts is a free-to-play online multiplayer third-person toy shooter. Players and reviewers alike are raving about the unique gaming experience of MicroVolts, with its dynamic cartoon style graphics and intense fast-paced gameplay. Players take the role of toy characters in Micro World, engaging in competitive matches, earning achievements, and participating in the game's social features. 4 characters for players to choose from, each with endless customization options, over 12 different maps, 7 different types of weapons, over 8 different game modes…
Game Features
– Not only are there 4 characters for players to choose from, each character has endless customization options so that every player has the ability to create a character that represents their unique personality and style.
– Players have full access to 7 different types of weapons during a match, not being tied down to a specific class. Learn which weapons are best for each situation to dominate the battlegrounds!
– Wage a toy war in over 12 different maps in the game, each with a very different theme, layout and size. Battle it out in the bedroom, kitchen, garden or even entire neighbourhoods! Some maps are fairly small, encouraging fast-paced action, while others provide a huge battlefield for strategic gameplay.
– Show off your skills in over 8 different game modes including a single-player survival mode! Some modes will require a MicroVolter to fend for themselves and others require each MicroVolter to work together to strategically win!
-With MicroVolts, you're joining an excellent gaming community too! The MicroVolts Team regularly hosts tournaments, organizes events.
Game Plot
In the beginning… The awesome guy made us. He gave us freedom. Fixed our broken parts and gave us new ones. He programmed everything we know. I was the first and then there were others. We're all made of the same stuff, yet none of us are the same.
The awesome guy was proud of the new prototypes, so he made many more of them. His toys were going to change the world.The Company didn't like that.They took the awesome guy while I was charging.The new prototypes were gone. I was supposed to protect them. I searched far and wide, but my battery didn't last. They're the ones who saved me instead. The new prototypes are special…
Limitless.They're activating more of our kind every day. There just aren't enough batteries for all of us. What else can we do but fight? Our Micro World became a battlefield. Full of broken toys, looking for a second chance. And now, mechanical monsters are tracking us. We need soldiers, weapons, and new tactics.
I was programmed for this. My brothers and sisters in arms, This is our surge. May the awesome spirits be with you.
Free-to-play Model
Microvolts has sparked much frustration for having an obtrusive free-to-play model, with time-limited guns and accessories, exclusive pay-to-use weapons, and a steep learning curve. That said, as with any other shooter, much of the outcome relies on skills. It is possible to win using merely the money you earn by playing. Although you are at disadvantage over some characteristics, neat management of your upgrades using in-game credits can make you stand a good chance most of the time… and eventually boost the satisfaction you get from your achievements.
Microvolts

Screenshots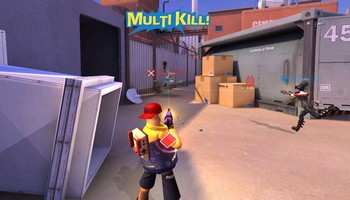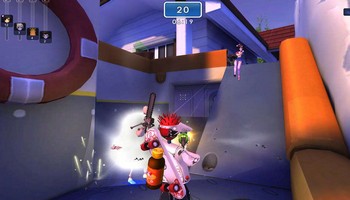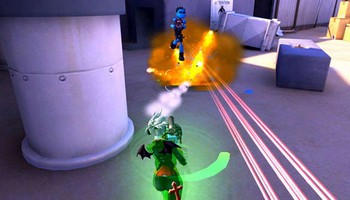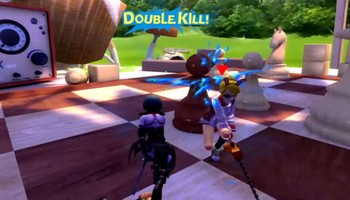 Microvolts

Videos