Monster MMORPG is a free to play browser game based on catching, training, and battling Monsters. Like Pokemon, Monster MMORPG lets you collect, train and battle with Monsters. But better than Pokemon, it is an Online RPG game, with people cooperating and challenging each other all around the world! Some of the core features are fully working live PVP battles, NPC trainers, Arenas, Individual values, Training Points, 1,200+ Monsters, 520 game maps, very fluent gameplay, extreme cheat preventation system, market system that supports buy, sell, trade, game intergarted chat system, working private message system.
Features
-> Very professionally designed good looking pack of maps
-> Advanced and balanced game mechanics.
-> 659 different Monsters which are unique in their own way.
-> 100 different natures which provide stat changes to the Monsters.
-> 560 different moves which work perfectly with extra features, like paralyzing the enemy or increasing attack stat.
-> 207 different abilities which work perfectly with extra features like recovering HP every turn or making a Monster immune to moves or burning them.
-> Perfectly working Unique Values and Training Points system which makes everyone's Monster unique in their own way.
-> Perfectly working Market system which provides buying and selling items and monsters system and also Monsters trading.
-> Server side cheating checking system to prevent any kind of hacking or bug abusing system.
-> Advanced map system which allows you to catch Monsters, walk on water or smash rocks.
-> Perfectly working live battle (PVP) system which allows you to battle with other Trainers and have fun while battling.
-> Awesomely designed Monster Dex which has a lot of filtering features to make your job easier when you're searching for the desired Monsters.
-> Real time statistics saving to prevent any work you do to get lost and let you continue to the game anytime from anywhere you finished last.
-> Game page integrated chat system which allows players to chat with friends or other trainers while you are playing.
-> There's in game private messaging system.
-> Logically designed top Trainers ranking system.
-> Lots of other unique features which are waiting for you to be explored.
Monster MMORPG

Screenshots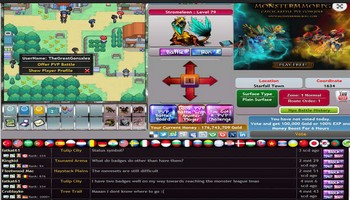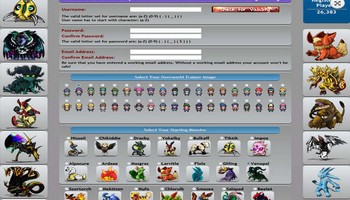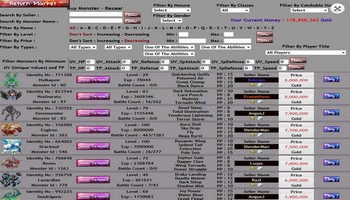 Monster MMORPG

Videos