Mythgard is a free-to-play Collectible Card Game (CCG) of boundless depth and strategy, by Rhino Games for PC and mobile devices. Mythgard entered Open Beta on September 19, 2019. Dragons vie with jets for control of the skies, and mortals rise to challenge creatures of myth. Unleash spells, summon minions, and master unique tactical enchantments to control the magic of Mythgard. Play solo, 1v1, or bring a friend for 2v2. Collect 400+ cards featuring gorgeous art. Explore a compelling story. Battle through story, draft, and rank modes.
Game Features
Strategic Choice: Mythgard is a collectible card game of boundless depth and infinite strategy. Experience a unique game with fast and fluid tactical action. Use spells, minions, enchantments, and artifacts to vanquish your opponents. Every play could mark the difference between victory and defeat. Your deck is not restricted to a single class or faction, opening a world of limitless possibility.
A World of Myth Made Real: Gods of ancient legend walk the modern world in Mythgard. Many of the greatest deities have not been seen in millenia, but creatures of myth still rival jets for control of the skies. Mortals now rise to contest with these ancient beings. In Mythgard, players harness both the edge of technology and the magic of myth as they battle for dominance over the powers of an earlier age.
A Battlefield Like No Other: Place your minions and enchantments strategically on Mythgard's unique battle board. Create mighty artifacts that alter the fundamental rules of the game. Cast powerful spells to open gaps in your adversary's defenses and charge as the tide of battle shifts in your favor.
Free Means Free: Every card can be earned through play, and you can build your collection in any way you choose! A variety of PvE modes provide daily rewards, while an equal variety of PvP modes let you test your skill against the ultimate opponent – other players!
Single Player Campaign: Explore the world of Mythgard in an extensive single-player campaign. Use the cards you earn to learn the game play, build your skills, and hone your strategy. The campaign lets you study the characteristics of each color faction, jump start your card collection, and most importantly – enjoy your Mythgard adventure.
Mythgard

Screenshots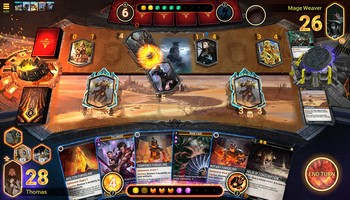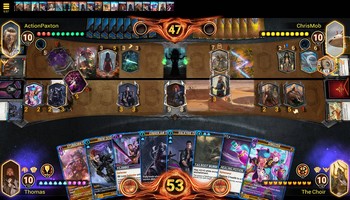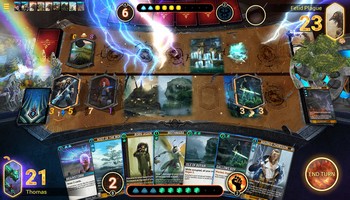 Mythgard

Videos