Nightbanes is a free-to-play collectible card game set in an alternate modern horror universe where vampire clans are waging an endless war for dominance. Conquer the underworld as an almighty vampire lord by sending your minions and allies into battle. Duel other lords in different PvP modes or master the single player campaign earning additional powerful cards the further you journey. Step into modern, urban battlegrounds filled with magic and gruesome creatures.
Game Features
Fight: werewolves – your traditional archenemies – as well as horrifying monsters, wild animals, corrupted humans, and even battle robots, aliens and dragons from a portal to medieval times.
Build your deck: according to your preferred play style and theme. Run bestial decks that overrun your opponent with the pure mass of creatures, build up a defensive deck and hide behind your lines while slowly draining your opponent's life, or take control of the battle with powerful artifacts – the choice is yours!
Earn cards: along your journey or pull them from booster packs to constantly improve your deck. Cards can be leveled and combined to create new, more powerful additions to your deck – something a real world card game can never deliver.
PVE & Co-op: through different thematically regions and themes you'll battle powerful bosses, found guilds and join-up with other players to raid the most merciless epic bosses of the underworld in order to gain special loot cards.
Player-versus-player: players need to be simultaneously online and fight a live duel to gain a higher ranking. The higher your PvP rating (under the ELO system) the more PvP reward cards unlock. Every PvP season lasts about 2-3 months.
Passive PvP: You submit your deck but you don't have to be online. You either fight against offline players or the AI takes over your deck if you are attacked.
Free-to-play model
Nightbanes is based on micro-transactions that allow you, through the direct purchase of cards, to skip some of the grinding process necessary to buy those cards with currency earned in-game. As it stands, the grinding needed to buy cards and to build decks is colossal, as you would expect in a free-to-play game, and above average.
Nightbanes

Screenshots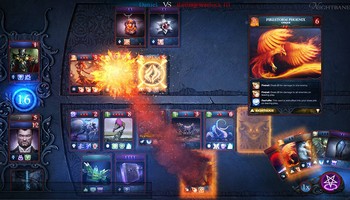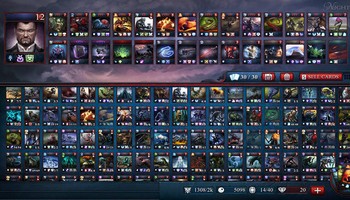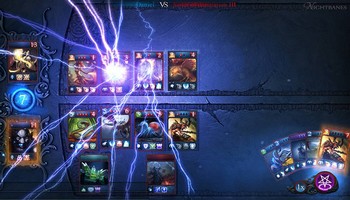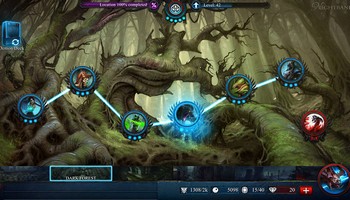 Nightbanes

Videos