Pangya was* a casual online multiplayer golf game for PC that simulated the exciting sport of golf in an anime-inspired style with an immersive fantastical story. The game could be played by 4 players on one computer, a rare feature that deserved to be noticed. PVP and coop modes were available for much excitement. Gamers could explore 18 unique courses in solo play, or challenge friends online in one of the five different modes: Versus, Tournament, Family, Ghost and Battle. Once on the tee, players were challenged by fairway obstacles, both standard and fantastic. Whether with a sand trap, water hazard, cannons or windmills, Pangya Tomahawk would keep players engaged as they strive to reach the perfect Pangya shot. Along the way, players could choose new characters to play and outfit them with a colorful choice of clothing, caddies, comets and clubs.
*A version of PangYa is still up and running in the South East Region at: pangya.mygame.in.th
Gameplay
PangYa's gameplay is designed similar to most other golf games. The power and accuracy of a shot are determined by a meter located at the bottom of the screen, using the "three-click method": one click to activate the meter's bar, one click to set power, and one click to set accuracy. Clicking is either done by moving the mouse pointer over the bar and clicking, or simply pressing the space bar.
Should the player hit the ball with perfect (or almost-perfect) accuracy, the shot is called a "PangYa". Missing a PangYa will result in a loss of power, and either a 'hook' (where the ball angles to the left from the intended trajectory) or a 'slice' (where the ball angles to the right from the intended trajectory).
The similarity of PangYa with other online golf games end here. The game's graphics are anime derived, with many of its features stemming from creative imagination, as opposed to realism. Golf clubs resembling household products or baseball bats are used by some characters, and courses including Silvia Cannon and Wiz Wiz are set in fantasy realms. Additionally, physically impossible special shots can be performed.
Game Modes
Versus Mode: In versus mode, players against others turn by turn with two to four players for 3,6, 9, or 18 holes. Winners are determine by score. In case of a tie, pang is used to choose the winner.
Stroke Play: is one of the versus mode options where players compete by strokes and score.
Match Play: unlike stroke play, determines the winner of the hole. Players still have to get a lower score than their opponent on the hole to win for that whole, but they must have the most wins to win the whole game. Match play is played with teams, red team and blue team. Players can go against another player, or play with a partner against another player and their partner. If anyone quits in the middle of a game, the whole game is finished.
Tournament Mode: A mode where 4 to 30 players compete in real time. There are no turns but there is a ranking system.
Regular Tournament mode: There is a ranking system to determine who is the best player of that round. There are also special awards of bonus pang for various accomplishments. Trophies are also earned in this mode. Team Tournament needs 12 to 30 people to play. Like Match Play, there is a red team and a blue team. Both teams need to have an equal amount of people in order to start. At the end of the game, each teams score is tallied up and determine the winner.
Guild Tourney is when guilds battle against another guild. Players need to join a guild to play. Its function is similar to Team Tournament.
Battle Mode: A special mode of Pangya that deters off of the original concept.
Pang Battle: is a special versus mode where players gamble with pang. Players receive other players' pang for winning a hole. If there is a draw on the hole, it will carry over to the next hole causing it to double or quadruple the amount of the total pang. In case the game is finished and there is still a draw, there will be an approach hole where players have to be closest to the hole without chipping in at the fastest time.
Approach Mode: is where 4 to 30 players compete to be in the closest and fastest person to the hole without chipping in. In Season 3, players pay 100 pang to play one hole. All pang is stored to a pot, with top three players splitting the winnings. At rare times, the amount may double or even triple. As of Season 4, entrance fees/gambling have been removed and now participants can play up to nine holes with missions in which they must work together to win items. No missions can appear a lot where its normal approach mode without the gambling unless there are more players playing this mode. Some missions are for genders playing the game, genders of the character, chipping-in, distances, etc. At the end of the game, players get prizes from the treasure chests collected.
Special Shuffle Course Mode: Each hole is from a different course. The last hole is a special, new course that will give a large reward to players.
Ghost Mode: Players compete against another player's ghost recording in an 18 hole game even if they are busy or offline. Quit rate and Aztecs won't be affected, but any time boosters and items will be consumed when used in the game. Ghosts are created when players complete an 18 hole game. At the end of this mode, there is a mini-game opportunity for bonus pang.
Family Mode: A mode designed for players to play against their families on the same computer. Items usable are limited to what is on the players account. Items won't be consumed and no experience and pang will be gained.
PSq's/Lounges: PSq's, or Player Squares, are where players can socialize and sell consumable pang items and pang clothes in any specific hole and course in the game. (source: wikipedia)
PangYa

Screenshots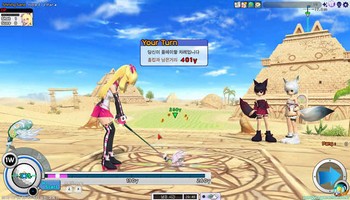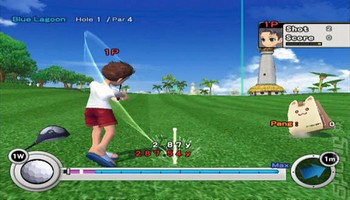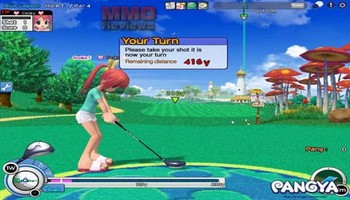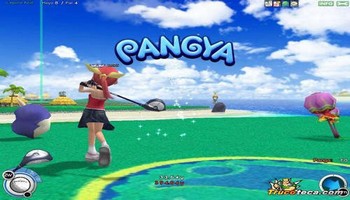 PangYa

Videos
trailer
gameplay
gameplay 2