PoxNora is a free-to-play turn-based, tactical, online fantasy collectible card strategy game. Players collect cards and build their own decks using one or more of Pox Nora's 8 unique factions, allowing them to command armies of fantastic creatures, cast spells of devastating power, and summon relics and equipment of ancient renown in order to defeat their opponents. PvP ranked is an important feature of this game, as well as campaigns in single and coop modes.
Game Features
– Hundreds of Illustrated Runes to Play: Configure your Battlegroup from hundreds of beautifully illustrated Runes. Champion runes gain experience, advance levels, and have special abilities that can turn the battle in your favor. We have launched over 10 complete expansion packs since the games birth, bringing our total count to over 900 runes!
– Highly Detailed Maps: Poxnora offers many detailed maps to do battle, with new ones arriving all the time!
– Built-In Trading: Looking for a particular rune? Trade with players from around the world to complete your collection!
– Ranked Lobby: Take your Battlegroups to war! In the Ranked Play game lobby, you will face off against the different factions of PoxNora. With your full-faction or split-faction Battlegroup, you will fight for glory! Each victory will garner Faction points, which go towards your personal Faction Rank and towards your Faction's total rank. That means your victories affect you and your entire Faction! Be a part of your Faction's rise to glory!
– Campaigns: Take your favorite Runes on an adventure! Campaigns are a series of Encounters, where you will face off with a computer-controlled opponent. In the Single Player lobby, you will find several free Campaigns that are ready for you to play! In Campaigns, your Runes can gain experience. Win an Encounter and you might just get a Rune Fragment, which can be used in the Player Rewards section!
– Player Rewards: Defeat a Campaign? Then you've got Rune Fragments! Turn them into special prizes in the Player Rewards section!
– Create Limited Edition Runes: Turn that stale Elsari Mason into a special Limited Edition Rune! Just gather the required Fragments and redeem a special version of certain Champion Runes in the Player Rewards Section.
GamePlay
Players build decks, called "Battle-groups", on PoxNora's website. A Battlegroup consists of thirty runes in any combination of spells, relics, equipment and champions. The game is launched via Java Web Start and players enter one of four game lobbies where they can chat or enter games. A fifth game lobby is reserved solely for trading discussion. Games consist of two players, though matches against AI "bots" are possible now with the release of single-player campaigns, first introduced in the "Path to Conquest" Expansion.
Each player's Battlegroup is shuffled (like a deck of cards) and (in standard settings) players reveal two runes per turn (except the first turn, when four are revealed and the second player's first turn, in which five runes are revealed). The game is played on one of 8 different square, "tiled" maps with various obstacles, fonts, and a Shrine representing each player. The first to destroy their opponent's Shrine wins.
Players accumulate Nora (magical energy) each turn and can use it to cast spells, deploy champions, place relics, or use equipment. When a champion rune is played, it appears on the game map and can be moved around, just like any other tactical roleplaying game. Champion movement is limited by their Action Points (AP), which they regenerate at the start of the player's turn. Champions gain Champion Points (CP) as they participate in battles. Players can spend CP to improve or add to their champion's abilities. Tokens can be used to increase the CP of a champion by 25, 50, 100, or 200, depending on which token is used. Tokens are obtained through purchasing traditional booster packs or separate token packs. Tokens can be traded with other players for alternative tokens or runes.
PoxNora

Screenshots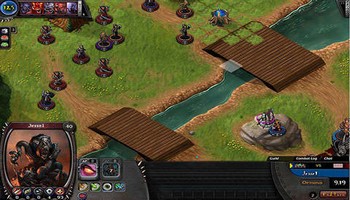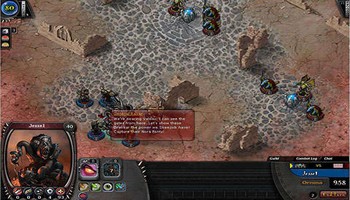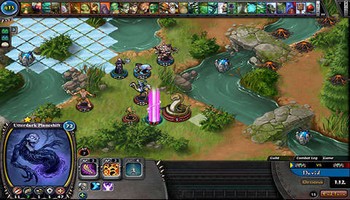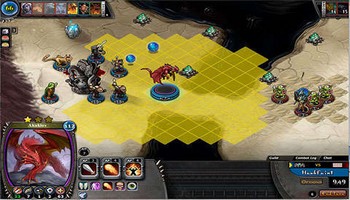 PoxNora

Videos