Red Bull Air Race 2 was a free-to-play multiplayer online air racing game based on the real Red Bull Air Race World Championship and boasting ultra high-speed action. Experience the spectacle and thrill of the fastest motor sports race series on the planet, on all official races and on additional fictional race courses such as Uluru or Grand Canyon. The goal is to complete an air race course marked with air-filled pylons as quickly and with as few mistakes as possible. Breakneck speeds, low-altitude flying, and the extreme maneuverability of the racing planes make the sport one of the greatest challenges which only the most extraordinary pilots in the world can master.
Game Features
Online multiplayer: Go head-to-head with up to 11 other pilots
Single-player career: Compete in Cups and time trials
Training ground: Improve your abilities by competing against your own "Ghost"
Virtual Reality support: A breathtaking virtual reality experience with HTC Vive and Oculus Rift
Plenty of aircraft: Wide selection of more than 20 different aircraft types
Control support: flight stick, gamepad (Microsoft Xbox Controller), mouse/keyboard, smartphone app
Various difficulty levels: ranging from casual gamers to pro pilots
Fully official: With Nick Fellows, the "voice" of the Red Bull Air Race series, all official Red Bull Air Race courses of the 2016 season.
Red Bull Air Race 2

Screenshots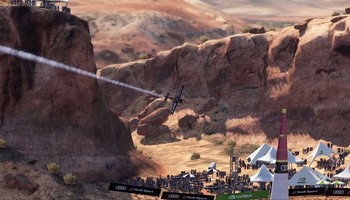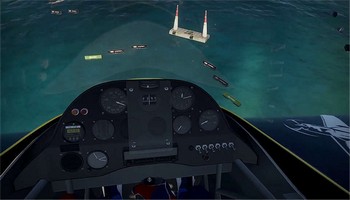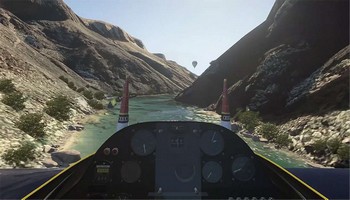 Red Bull Air Race 2

Videos
Red Bull Air Race 2

Review

"

What else to expect from an air racing game boasting stunt planes and great realism: after a few loops and rolls through the gates, you decide to execute a barrel roll... and that's when you get to feel both air and sea sickness.

"
Graphics
State-of-the-art 3D graphics (up to 4K resolution) make this game highly realistic and ensure a comprehensive immersion. Every possible detail is catered for, be it plane or environment related.
Gameplay
Gameplay is smooth, straight to the point and rich. The game mechanics of the flight itself feels right, but could benefit from a faster pace. As with any descent racing game, you can manage and enjoy your progression and competitiveness in a rewarding manner, by earning game currency and by purchasing planes while signing temporary contracts with sponsors of your choice.
Replay value
Various difficulty levels, ranging from casual gamers to pro pilots, will keep you busy while progressing. And to satisfy your unquenchable thirst for competition, ranked races are accessible non-stop and a dedicated seasonal championship takes place over each year.
Sountrack
Voice acting from official commentator Nick Fellows for total immersion into the world series.
Free-to-play model
Red Bull Air Race is completely free-to-play. Given the highly reputable name of the sport's sponsor, this comes as no surprise. Racing earns you in-game currency, which in turn allows you to buy different planes. The higher you rank in a race, the more money you get, but you may also earn it by completing side quests that you may choose to fulfill during a race.