Rift is a fantasy free-to-play MMORPG which takes place within the fantasy world of Telara. Two competing factions composed of a selection of races and classes battle each other; and also battle against the enemies which emerge from dynamic rifts. Adventure in the world of Telara as either a noble Guardian or technomagical Defiant and enter a dynamic fantasy where 8 primal forces battle for control in an ever-changing landscape. Build your own class using the Ascended Soul system and embark on epic conflicts that bring you into the story, taking your RPG experience to new heights of achievement and excitement!
Game Plot
Telara is the focal point of the elemental Planes: Air, Fire, Water, Earth, Life, and Death—and one point where every one of these Planes intersect with each other. Each Plane is governed by a dragon-deity, which is the personification of that elemental force. Through the actions of the Dragon of Extinction, Regulos, the various dragons have united in an alliance known as the Blood Storm, for the purpose of invading Telara and gaining use of the intersection of all of their realms. In the past, the Blood Storm was defeated by the inhabitants of Telara with the help of the Vigil, the most powerful of the native gods.
Regulos was cast out into the elemental Planes, while its five compatriots were trapped within Telara and chained beneath a ward designed to close Telara off from external threats. However, recently, Regulos has gained entry to Telara, destroying the ward and causing rifts to open, feeding the strength of the trapped dragons and allowing their minds to enter in a bid to destroy Telara's defenders. Players have the role of ascended, superhuman resurrected warriors whose task is to defeat the forces of Regulos and cleanse Telara forever of the threat of the Storm.
Gameplay
Rifts are areas of elemental instability that represent the intrusion of elemental planes into the land of Telara. Once opened, these rifts begin to spawn monsters that proceed to march towards important points on the map. It is up to players to defeat these monsters and to close the rifts. If rifts are left unchecked, the invading monsters will eventually conquer large portions of the map, killing and significantly impairing the players in that area. Entering the area around a rift triggers a prompt for the player to join a public group, rather than forcing the player to manually create a group. After sealing a rift, players are rewarded based on their contribution to the fight, such as healing, dealing damage, or buffing other players. The severity and locations of rifts are entirely dynamic. Rifts of six different types (earth, fire, air, water, life, and death) are possible, and rifts of different types will oppose each other. In addition, Non-player characters hostile to the player may engage rift invaders. With the addition of Storm Legion, Hunt Rifts can be summoned by players creating a "survival" style of combat where players defend conduits from waves of invaders culminating in a boss battle. Hunt Rifts have varying degrees of difficulty and as the difficulty increases the player rewards also increase.
Rift offers several types of dungeons/instances including Dungeons and Raids. Players may team up in groups of 5 to battle through Normal, Expert or Master mode Dungeons. Each level of dungeon challenges players to overcome unique strategies and encounters. Dungeons provide players with a chance to acquire higher level items and currencies to use throughout the game. In addition to Dungeons, players may also choose to enter 10-man or 20-man Raids which require teamwork and gear requirements to be successful. Raids are considered end-game content and contain the toughest encounters Rift has to offer.
Each character chooses between four different callings: Warrior, Cleric, Rogue, or Mage. Each class starts with access to eight different 'souls' from that calling, which have trees to which they can allocate a number of points gained each level. Rift's soul trees have two levels: branches, which are the specific abilities/bonuses that the player allocates the points to, and roots, which are the soul's base abilities that are unlocked as the player allocates a certain number of points into the branches. All races may become all classes. The soul system allows players to customize their characters to a high degree. The player chooses three souls from within their calling, and allocates earned points into talent trees for each soul.
Rift

Screenshots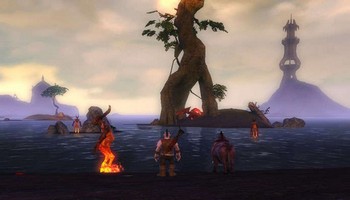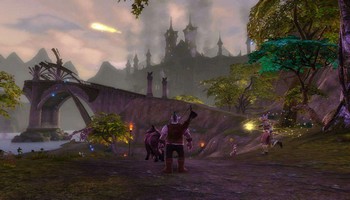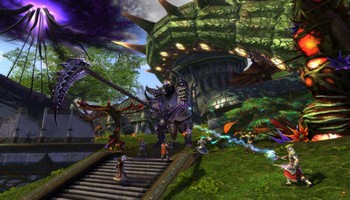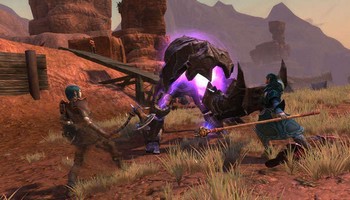 Rift

Videos
trailer
trailer 2
trailer 3
trailer 4
gameplay