Rocket Bot Royale is a free to play* tactical vehicle shooting and action platformer for PC (Windows, Mac, Linux via Steam or browser) and mobile (Android, iOS), with gameplay inspired by Worms but in real time. Powerful, wall-climbing, rocket-jumping, artillery-pumping Robo-Tanks are the vehicle of choice in this fast-paced shootout, where the goal is to survive longer than the competition. Collect the loot to upgrade your arsenal, tunnel into the terrain to take cover and collect buried treasure, and avoid the rising water levels to be the BLAST ONE STANDING!
Game Features
▶ Battle Royale Platformer: Launch deadly rockets from your custom robo-tank to destroy the competition in this cross-platform Battle Royale set on a massive sinking island. Compete on the global leaderboards to earn bragging rights and prestigious awards.
▶ PVPVE Gameplay: These islands are populated by strange enemy tanks. They aren't the smartest, but they are certainly a nuisance. Destroy them quickly before they get a lucky shot off at you. They will drop any loot they've collected when destroyed, so target them when you're low on powerups or coins!
▶ Side-scrolling Loot: Explore the islands for hidden loot and items to help you in your quest for the Victory Royale. Coins can be used to pre-load your tank with various weapons, shields, and stat buffs.
Free-to-play Model
*Rocket Bot Royale is F2P with a little bit of P2W microtransactions. Before every single round you buy different types of weapons and boosts that increase your health/damage by 50%, using in-game rewards or real money, so people who spend real money may have an advantage over you. The developer stated that the paid features affect non-paying users far less than one would expect as 50% health amounts to surviving just one extra hit throughout the whole match. The advantage may be easily overcome with skill, and regular gameplay brings a large number of free coins for anybody to buy the powerups.
Rocket Bot Royale

Screenshots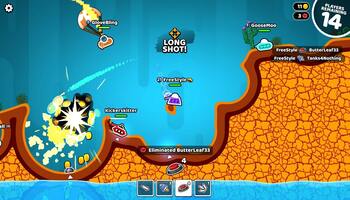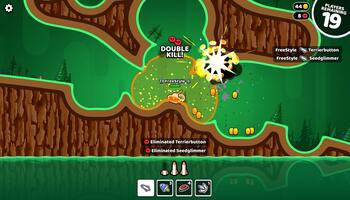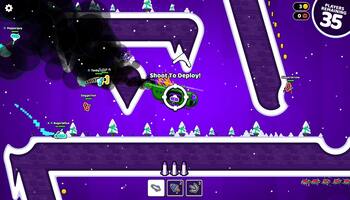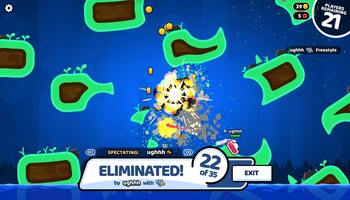 Rocket Bot Royale

Videos