Romero's Aftermath is (or was) a free-to-play post-apocalyptic survival FPS game. Survive against the odds in a giant sandbox MMO world featuring lush forests, dry desert plains, peaceful meadows and the eerie zombies that inhabit the world. Scavenge for guns, supplies, survival items and crafting materials in various zones including cities, farms, military bases, abandoned outposts, forgotten rest stops and hundreds of small encampments left behind by survivors before you. Build and protect your shelter, harvest crops, learn crafting blueprints and store your items on our server in your Global Inventory or hide them in a stash box in the world. Be a civilian, a trader, a protector of peace, a ruthless bandit or combination of them all. Customize your character with hundreds of visual cosmetic items including Headwear, Facewear, Shirts, Jackets and Pants. Swap your cosmetic items at any time on the fly, unlock weapon skins and show everyone in a safezone that you know where to find the rare items.
Game Features
Crafting: Fill in the gaps during your looting adventure by crafting useful things you couldn't find. Break down rubbish items in the world into their core crafting components and repurpose them into high end upgrades to your gear or fashion a new silencer for your gun. With over 40+ crafting recipes to be unlocked you'll find that almost anything you need can be crafted, provided you've found the right components. Loot or craft all the items a survivor would need in a zombie apocalypse as well as a few novelty and lethal crafting options that may be above and beyond the usual survival requirements. Craft shelter, weapons, attachments, armor, ammunition, medical supplies, food, purify water and set up traps for players or set up a nice peaceful garden to harvest.
Supply Drops: Supply shipments containing large caches of weapons, ammo, medical supplies and rare guns have been spotted randomly on the map. Be lucky enough to find one of these alone and you'll walk away armed to the teeth with enough gear to arm your friends as well!
Radio Tower Control: Disable zombie sense of smell, sight and sound for a short period of time in key areas to move unhindered and unnoticed by the local zombies. Find a radio transmission chip and insert it into the console at a functioning radio town in a town to take advantage of this new gameplay.
Hundreds of Character Customizations variants: Customize your character at any time in game simply by opening the customization menu. Change out your hat, mask or scarf, upper body and legware to match your surroundings. Don't stick out like a sore thumb in the middle of the jungle with a desert camo outfit. Adapt your clothing to fit to your surroundings without taking up bagspace.
Place-able Barricades: Find fortification in any situation with placeable barricades. Available both through looting as well as crafting – these essential placable barricades can be the difference between life and death by blocking damage and visibility between you and another survivor attempting to shoot you. With 7 different barricades to choose from you'll have one for every situation including cleverly placed barricades to enable access to an area not normally accessible.
Base Building: Ever dreamed of owning a little piece of land overlooking your favorite location in a game? Now you can with our totally renovated base building system! Place down your statue to claim your land and build unhindered anywhere on the land that you own. Place defenses, harvestable crops, cooking racks, water wells, living quarters for your friends and your own personal storage locker! Owning a base has never been better!
Grouping: Group with your friends or even make new friends with other players in game. You can't be back stabbed while in a group so feel free to team up with anyone! Beware they might lead you to some of their not so friendly "friends" but that's all part of the adventure. Take on challenges like the new Town Liberation's or raid an enemy base in style in all matching cosmetic outfits!
Harvestable Crops: Live off the land and prosper by hiding gardens around the land for your own personal food stash or protect them inside your base. Once food has been harvested you can choose to eat it on the spot, cook it or use it in a crafting recipe to possibly get even better results.
PVP Servers: Up the anty with a bit of extra excitement in your zombie apocalypse. Head into a PVP server where it's no holds barred item drop PVP and test your mettle against other survivors if you happen to cross paths. Town Liberations are enabled on PVP servers to add a bit more risk to the reward of open world "anything goes" pvp. Find unique solutions to player disputes on PVP servers not normally possible on PVE. Expect players to be ruthless.
PVE Servers: Tired of always feeling like everyone is out to get you for all your precious items and every shadow and sound is terrifying? We understand that you might feel more like going on an adventure and turning up the ambiance without the constant fear of someone stalking you. PVE offers a more casual experience for players that just want to practice surviving and looting in the world without PVP combat.
Romero's Aftermath

Screenshots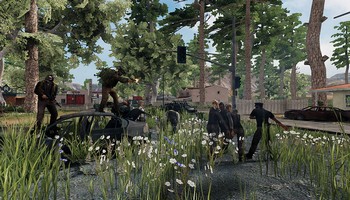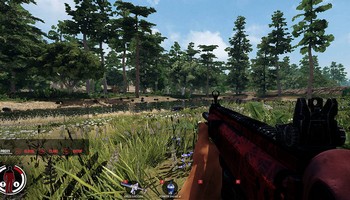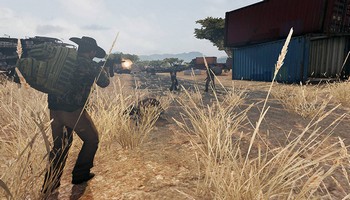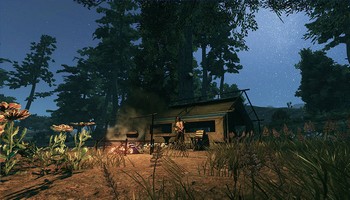 Romero's Aftermath

Videos
trailer
gameplay
gameplay 2