Saga is a persistent world RTS in an epic fantasy setting. Players collect troops, build armies, conquer new lands and build up kingdoms, complete with resource collection, city building and peasant management. Saga is said to be the first persistent online real-time strategy game. Saga combines the TCG-sensibilities of Magic: The Gathering, the MMO persistency of RPGs, and the kingdom management and mass battles of RTS titles such as Rome: Total War.
In february 8, 2014, a new version of saga was introduced to the public as an upcoming MMORPG. It is named Saga Heroes.
Game Features
– MMORTS: Play the world's first persistent online real-time strategy game. Featuring Online Chat, Quests, Auction House, Guild Wars, Espionage, Raiding, PvP, and much more MMO excitement.
– TROOPS: Collect over 100 troop types and over 50 different spells. Customize your units with weapons and armor won in Quests.
– BATTLE: Join with friends in Cooperative Mode or Battle Solo on over a thousand Quests online. Unlock over 50 Nation Upgrades. Fight Boss Monsters for Epic Loot Rewards.
Game Plot
Saga is set in a fantasy world where an age-old strife exists between five competing Gods. Each God heads up a faction with unique races and abilities. The factions are Magic (Dark Elves), Machines (Dwarves), Nature (Elves), War (Orcs and Ogres), Undead (Undead) and Light (Giants and Humans). Each faction is diametrically opposed to two other factions. For example, Machines hates Magic (they are naturally opposite, technology vs. mysticism), and Machines also hates Nature (machines vs. living things). Nature also despises War, for their tendency to destroy nature. Light faction are champions of order and justice, while Magic faction delve deep into the black arts, and the circle completes itself. Each faction has an ethos and a strategic quality that sets it apart, giving players a spectrum of play styles to identify with. The system is designed to create a balanced tension between the factions, giving each faction two archenemies and two neutrals to war with or form alliances with. The result is a world where endless war is inevitable.
However, the Machine (Dwarf) and Nature (Elf) factions have put aside their differences to join the Order (Machine, Nature, Light), and the remaining factions have joined the Brotherhood (War, Magic, Undead). The Undead faction is a recent (2008) addition and not part of the original five races.
SAGA

Screenshots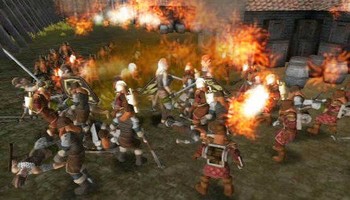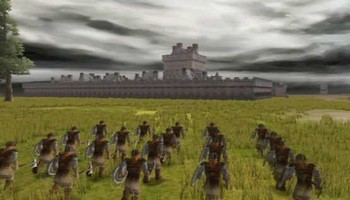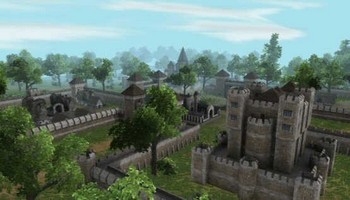 SAGA

Videos
trailer
trailer 2
trailer 3
gameplay
gameplay 2