Star Wars: Galaxy of Heroes is a free-to-play Star Wars-themed mobile RPG game with turn-based combat allowing you, presumably, to "live your Star Wars dreams as you fight with your favorite dark and light side heroes across iconic locations to become master of the galaxy". You can create and customize your squad using characters from every Star Wars era, including new characters from The Force Awakens, Rogue One: A Star Wars Story and Star Wars: The Last Jedi, and engage in turn-based battles, confront giant bosses, and improve your characters.
Game Features
TEAM SET-UP: Rebel leaders? Empire stalwarts? Construct elite light and dark side teams while collecting heroes and other characters from the Star Wars universe. Make key strategic moves and pick teammates with complementary abilities.
PVP TBS: Fight turn based combats versus other players in Squad Cantina Battles, PvP Squad Arena, and Squad Tournaments.
LEVEL-UP: Make smart, tactical decisions and equip your heroes with the ultimate gear to enhance their damage in galactic war. Unlock fun abilities to make your team unstoppable as you unleash commanding moves like Luke Skywalker's Bullseye, Jedi Knight Anakin's Reckless Assault, and others.
SHIP BATTLES: Collect iconic starships and massive Capital Ships to construct your war fleets. Attack all-new challenges, fight through space, and compete in the Fleet Arena to test your prowess while gathering upgrade materials for characters.
GUILDs (COOP + PVP): Lead Raids with friends and fight against bosses when you create a customizable Guild. Collaborate with your Guild in Territory Battles where members unleash their entire arsenal of characters and ships against a progressively evolving battlefield.
Star Wars: Galaxy of Heroes

Screenshots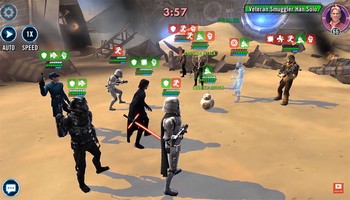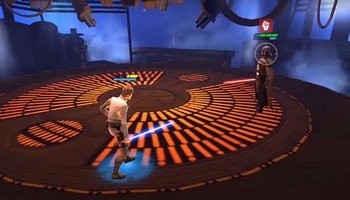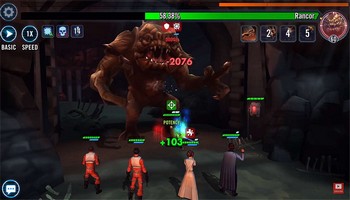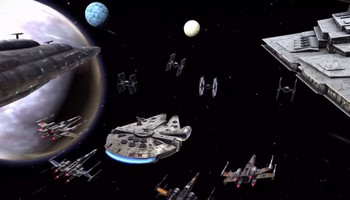 Star Wars: Galaxy of Heroes

Videos