Tactical Monsters Rumble Arena is a free-to-play multiplayer hex grid, turn-based strategy game where you experience the rush of 3-5 minute strategy battles in a world comprised of monsters. Form the most monstrous team with turn-based, hex grid tactics and conquer in real-time multiplayer gameplay. Outsmart and destroy your opponents by strategically positioning your monsters before battle and tactically controlling their actions. So many monsters to chose from, from Franky the Frankenstein, to fantasy monsters like Medusa and Griffin, to culturally established creatures like WuKong and the Mummy, to monsters you've never seen before such as Frosty the bigfoot and Nobu the ghost samurai. Each monster have their own unique background and jobs. Each monster has unique skills that incorporate magic, dexterity and even world-ending nuclear warheads from Dr. Walter's Meca Machine.
Game Features:
– Battle through Adventure Mode to recruit unique monsters.
– Upgrade the monsters to unlock ridiculous monstrous and destructive skills
– Endure through the Guerrilla Warfare Mode (Survival Mode) to defeat the never-ending BOSSES.
– Sharpen your tactics by visiting Training Grounds.
– Duel players in real time live PVP to take their thrones and claim the world treasure chest.
– Set your optimal defense formations and layouts in Mine Defense.
– Ally with your clan mates to chat strategy, to share cards and be the #1 clan in your country
– Discover free items, rewards and monsters.
– You might like this game if you like to like turn-based games, strategy games, hero growth and heroes collection games, RPG games, TRPG games, games similar to western chess, Chinese chess, war chess. This game is also similar to other turn-based hex grid or hexagonal games.
Tactical Monsters

Screenshots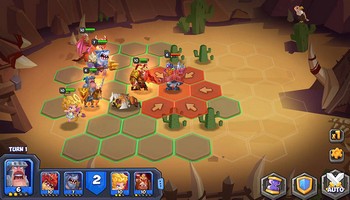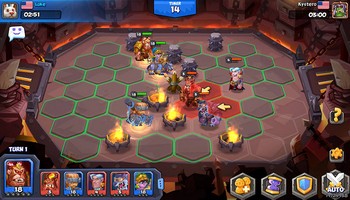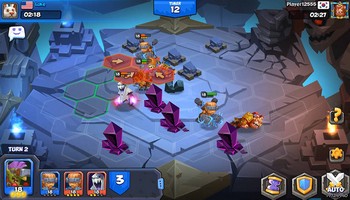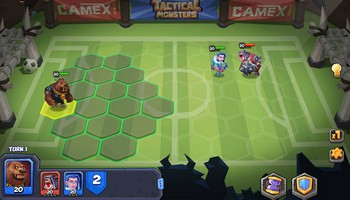 Tactical Monsters

Videos