Top Speed 2 is a free-to-play drag racing game for PC, Mac and Android by T-Bull. Top Speed 2 delivers all the auto racing emotions you could possibly desire. Join the world of fast-paced multiplayer races from the makers of Moto Rider GO, Top Speed, and Racing Xtreme for FREE. Fill your garage with the most expensive cars in the world, Play with your friends online and get even more rewards, Tune your cars with special upgrades and give them extreme boost, Take part in time-limited events and get bonuses. The next chapter of one of the most popular head-to-head racing games is finally here, supercharged with some of the best race action.
Game Features
BACK STORY – Mole for the mob or rat for the cops? You are a young cop who's been suspended and now operates on the borders of the law. When mafia mobs want to keep the city in their steel grasp, you have to work the night shift to get things done. Now, you are the only one who can deal with this new, extraordinary task. Don't let them know you're from the police. As a professional racer, you'll have plenty of opportunities to show off your ride in nice, realistic surroundings. Reach impossible speeds on spectacular motorways and highways. This a thrilling story about top drivers who are in love with speed and become racing legends.
DOZENS OF CARS – You live in a city full of criminal overlords and mafia mobs who own the best cars in the world. Prove your racing skills – choose any car you want from an astounding selection of 71 of the most desired supercars, but that's not all. There's always more of them coming to the game in future updates! Take on the asphalt tracks with fast-muscle cars you can tune and mod to your liking.
EXCITING RACER – Imagine: it's raining, the smell of burning rubber wafts past you and small droplets of water are falling on the asphalt – can you feel that? You are the best new driver on these streets, but your racing rivals still don't know it. Imagine, there are no speed limits, and no limit will be placed upon you – let ambition and adrenaline be your guide in this race. All races take place off the grid, away from traffic, so you can get crazy with burnout. Don't let them stop you from getting to the top. In this world, there can only be one most-wanted racer. Race now!
UPGRADING SYSTEM – Top Speed 2 allows you to upgrade 7 different car parts which each have a tangible influence on your racing performance. Increase your engine's power; enhance your landing gear, exhaust, gearbox, turbocharger, and nitro, or simply change the tire pressure. Repaint your car; slap on some decals if you need to. All of it will have a significant impact on the real driving simulation. All of the goods from the underground criminal nation are at your disposal – use them wisely! Leave your opponents behind in the smoke from the burnout after you drop the nitro.
Top Speed 2

Screenshots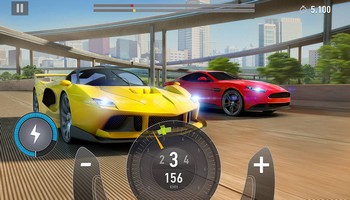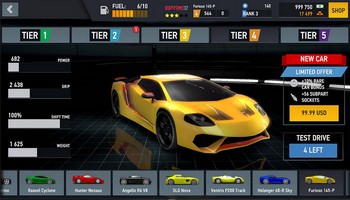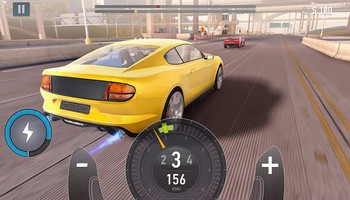 Top Speed 2

Videos