Tynon is a turn-based fantasy social online game by uCool Inc. Players can utilize social networks to cooperate and build, upgrade, and customize their cities in Tynon. Help the elite knight Rosaline to rescue the King, who is under an evil wizard's spell, and protect the thirteen kingdoms from dark magic.
Plot
The Dark Wizard Wyrm has somehow bewitched the king, leaving the land of Tynon in turmoil. Allies have become suspicious and an elite knight named Rosaline has taken up the quest to rescue the king and restore order. The lands continue to burn while wicked goblins roam free, serpent queens plague Verdant City, and the kingdom is threatened by disaster and slavery.
Gameplay
Some examples of the hybrid game mechanics of Tynon are:
Tactical – Through its animated combat sequences, Tynon requires the player to conduct tactical strategy decisions before a given combat, both in single player and multi-player modes. A player's heroes (and the enemy) will always attack the enemy straight across from them, if there is one. They will also target straight across with any of their attack abilities or magic. If no one is directly across, then they will attack the hero in the row above. If no hero is in the row directly above, then they will target the remaining row. A hero behind another hero can never be the direct target of an ability, but may be the incidental target of AOE (area of effect) abilities.
RPG – Players earn access to hundreds of heroes throughout the story. A player will need to select, based on tactical and strategic mechanics, which fantasy heroes to use. Each hero can be customized with equipment such as armor, weapons, and other items found within the game. The player uses the heroes to move further through the story, obtaining rare gems, gold and items, all of which are usable.
City Building – Within Tynon are mechanics to create and build custom cities. The strategy with which the cities are built (for example, creating farmland to produce goods to be consumed in battles, or creating businesses which earn revenue for enhancing equipment) will impact how the game is experienced by the player in terms of overall story progression and in the multiplayer arena.
Social – Players can participate in multiplayer aspects of the game, in which friends assist each other. Player-created guilds handle up to 200 players each. There is also an arena, where players battle over two tiers of players worldwide.
Tynon

Screenshots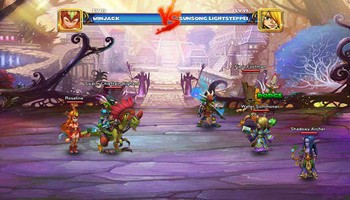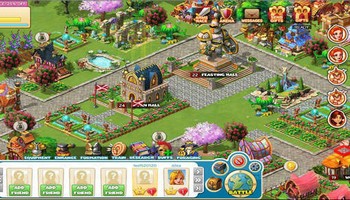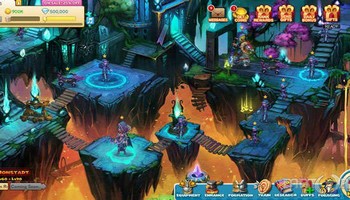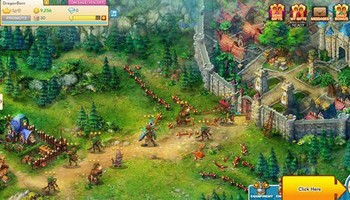 Tynon

Videos