World War II Online is a partly free-to-play Massively Multiplayer FPS, simulation game set in the Western Front of WWII and taking place across a massive 300,000 SQ KM that is an interconnected and zone-less game world consisting of air, sea and land, and offering total freedom for players. The game offers a strategic and persistent winnable Campaign that is completely player-driven, both in the strategic planning and players fighting to control territory.
Game Features
ALL OUT WAR, ON A MASSIVE SCALE
Its scale is a massive 300,000 SQ KM that is an interconnected and zone-less game world offering total freedom for players. This scale allows for truly immersive combined arms pvp combat. Communication between the Army, Air Force, and Naval units that are engaged will help determine the outcome! There are no limitations to how many players can interact in a battle space.
SERIOUS HISTORICAL ACCURACY
All weapons, vehicles, munitions and ordinance perform according to realistic values. They have achieved this through direct access to historical archives, a network of military experts and their advanced proprietary game engine that goes in depth like never before. Armor on tanks and aircraft, as well as their internal components, are modeled down to the millimeter.
HIGHLY DETAILED DAMAGE MODELS
The damage models go into extreme detail with each component being destroyable in vehicles including crew, weapon storage, gas tanks and more! You don't just shoot a hitbox? NO! With every shot fired, multiple calculations take place that determine the round impact consequences. Some of these include; angle of obliquity, speed of round at impact, thickness of the armor, internal spall, armor penetration, parts of tank damaged, etc.
FAIR GAME PLAY FOR ALL
Just like in real life, the outcome of each engagement will be determined by strategy, tactics, teamwork, and your weapon handling skills! In WWII Online there are no special power ups or item buys giving someone a special advantage against other players. Every rifle is just as lethal whether you are a premium subscriber or a free player.
Free-to-play Model
WWII online is a subscription based game as most content is available to paid subscribers only. All users that sign up receive the base game package which includes 2 full weeks of PREMIUM subscriber access. After this time, if you do not select either the Starter or Premium DLC option, you will be limited to the equipment that is available for Free Play Subscribers. Free Play users have access to ALL countries and are limited to Rank 3. You will be able to spawn the standard Rifleman class as well as the Airborne Rifleman. Free Players can also support the battle's logistical needs by operating Trucks and heavy towing vehicles (Haulers) to bring in soldiers and towed guns.
More info on their site
World War II Online

Screenshots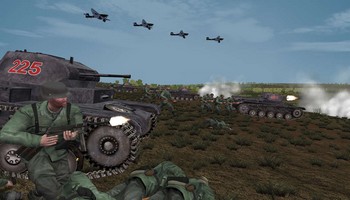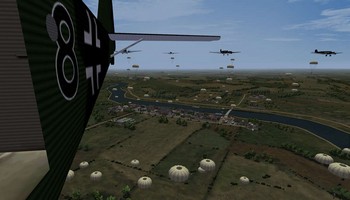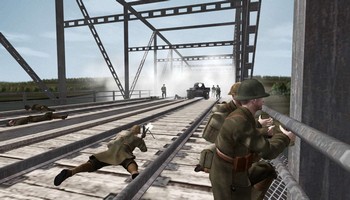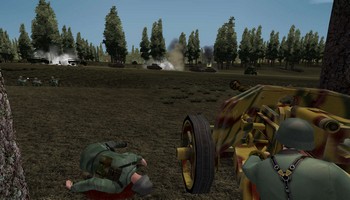 World War II Online

Videos