Xsyon: Prelude is a MMORPG, an online community, a virtual world and an adventure. Set in the near future, Xsyon is an apocalyptic fable. Xsyon is an ever changing dynamic world. Players affect the environment by gathering resources, chopping down trees, hunting animals, building towns and developing trade. Players hold the power to create and destroy, to maintain a balance with nature or to cultivate a new civilization. Set in an uncertain apocalyptic future, the virtual world draws upon real life geography, history, science and medicine, fauna and geology are slightly twisted versions of what is real. You can play as a warrior, a trader, a crafter, or a cultivator of crops. You can specialize your skills or become a jack of all trades. You can play as a clan leader or town offical, socially involved with many other players, or you can explore the world as a lone adventurer. Xsyon is a game for all kinds of players from casual to hard core. The path you take is up to you.
The game is built around environmental, natural, economic, questing, and social systems. These systems are in constant flux and it's the players interacting with these systems that determine the current state of the virtual world.
Game Features
– The Xsyon World: The Xsyon landscape is based on the Lake Tahoe basin and its surroundings. Lake Tahoe is an alpine lake nestled in the Sierra Nevada mountain range along the California and Nevada border. This location provides a wilderness setting with few traces of modern civilization as a clean slate for the first settlers of Xsyon to construct their world.
– Environment: The Xsyon world is set in a realistic and dynamic environment. The environment is meant to be not only visual and immersive, but affects and is affected by the Xsyon pioneers.
– User Interface: The Xsyon interface is designed to be simple, user friendly and customizable. The User Interface is considered a work in progress as we continue to add and revise interface elements over time.
– Social Interaction: Xsyon is a social game and interaction with other players is important for survival. Xsyon provides various chat channels and methods for players to exchange good and communicate.
– Character: Everyone is a hero in Xsyon. Your character begins with decent base statistics but is unskilled and untrained. In time your character will gain knowledge and develop the crafts and skills to flourish in this new world.
– Appearance: Upon character creation, you can customize your character's appearance. Over time your appearance will change.
– Actions: Characters in Xsyon can perform a basic set of physical actions, from gathering resources to interacting with other players.
– Skills: Characters in Xsyon rely primarily on their skills to perform actions, gather resources, craft objects and fight.
– Resources: The pioneer relies on the living world for resources to thrive in the world of Xsyon. Resources provide the basic materials for crafting, building construction and survival.
– Terraforming: Terraforming is one of Xsyon's unique and exciting features. Players can shape the land in useful and creative ways. They can lay foundations for their towns or sculpt the landscape as terraforming artists. Many things are possible!
– Crafts: Crafting is a major focus in the world of Xsyon. Players can craft armor, weapons, tools, components and a variety of useful equipment.
– Construction: Xsyon features an extensive system for constructing buildings. Players use a wide selection of building elements to design and develop unique structures, mazes, monuments, homes and towns.
– Gear: Xsyon is not a gear based game. The player can choose gear based on appearances and play style with individual gear varying in quality and properties based on the crafter and materials used.
– Combat: Xsyon features a flexible, manually controlled combat system. Targeting is based on player angles and swing directions. Final damage is calculated based on many factors.
– Creatures: Wild creatures populate the world of Xsyon. Creatures can be hunted or become hunters and are a major source of resources.
– Tribes: Life in Xsyon revolves around player created Tribes. Players can develop small homesteads and play solo or band together to form larger tribes. Players will find the need to interact with others to survive and thrive in this newly formed world.
– Quests: Xsyon features a unique player driven quest system. Xsyon does not have traditional quest giving NPCs.
– Events: The Xsyon Guide Team runs regular events and contests to bring the player community together and provide memorable experiences. Minor spontaneous events are running during the week with planned announced events on weekends.
Game Plot
Year 2012 AD
War has destroyed life as we know it. The Apocalypse is at hand! Will you fight for justice to stop the chaos or will you join in the ranks of evil to bring upon the ultimate destruction of the earth?
Modern technology has consumed itself. War has ravaged the planet, opening a rift to another reality. The survivors of the grisly destruction rise from the ashes of ruin to encounter a world that has changed. A world that once existed only in the realm of mythology, legend and imagination has become concrete and very real. You have forgotten the past and are welcomed by a new primitive future.
With the disruption of the planet, ancient gods awake to once again exert their powers over the earth. The lords of nature have revived the wastelands, eradicating and subverting the remnants of modern technology. Creatures of mutation and mythology now populate the land. The ways of swords and sorcery have replaced the path of science and progress.
You are a survivor. Your youth was spent lost in times of war. Your memories of the past with its machines, computers, bright lights and buildings reaching for the skies are vague and ever fading, a distant and unreal dream. You grow accustomed to ancient ways that now once again rule the world.
The new world hangs in a moment of uncertainty. Though the rift in reality has called forth many benevolent gods and creatures, this truly is the time of the Apocalypse. The seven seals are about to be broken. The Four Horsemen loom over the land awaiting their chance to spread destruction and chaos. Devils and angels vie for control of their earthly battlefield.
You know nothing. You've forgotten the past and have yet to learn the future. You are a lost soul in a strange barren world with little more than the shirt on your back. Little do you know you are destined to become a hero.
Your path is one of choice. Will your actions help heal the planet or will you play a part in its ultimate doom? What will be the destiny of the Xsyon, the promised land?
The future is in your hands.
Xsyon: Prelude

Screenshots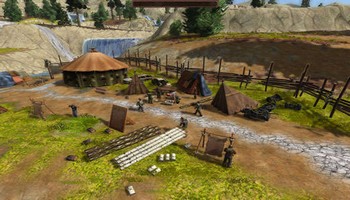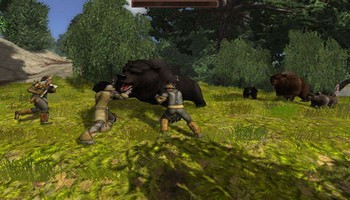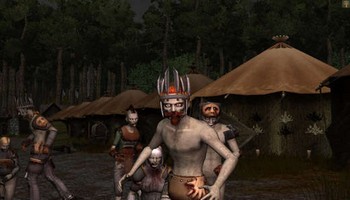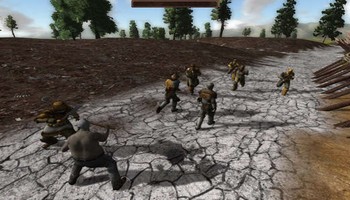 Xsyon: Prelude

Videos
trailer
trailer 2
gameplay
gameplay 2
gameplay 3
gameplay 4